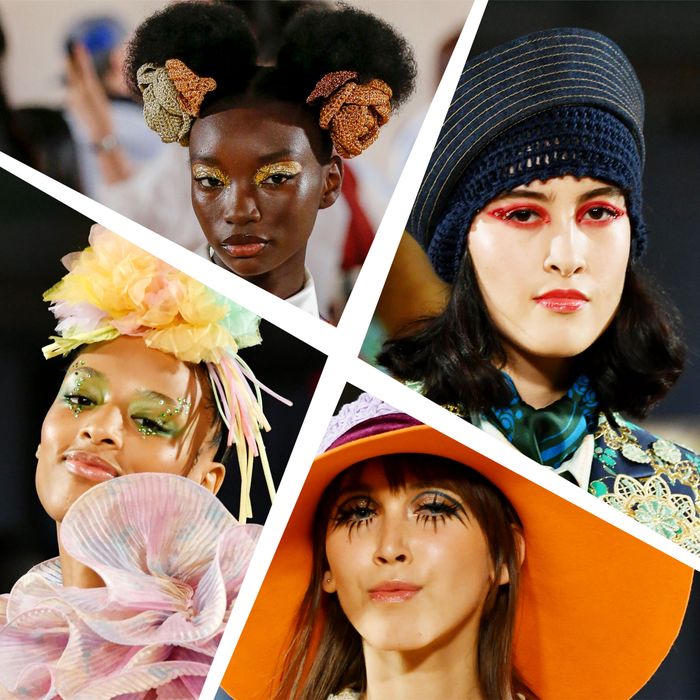 Just four of the individual beauty looks created for 60 different models at Marc Jacobs spring 2020.
Photo: Getty Images
New York's hottest backstage was Marc Jacobs spring 2020. It had everything: FKA Twigs–inspired baby hairs, high pigtails, bowl-cut wigs, corkscrew curls, and purposely chipped nail polish. Faces had rhinestones, cellophane, teal face paint, orange eye shadow, red eye shadow, or just a smoky eye inspired by Jane Fonda in Klute. And that list only covers about 6 percent of what was in attendance, because the show had 60 models and each one got a unique, personality-driven hairstyle, makeup look, and manicure.
"For Marc and me, it was an idealized interpretation of real life," Pat McGrath, the lead makeup artist, said backstage. "I would call it a modern take on street style — street style in the most maximum way. Not one girl or boy or person could look the same. Every single one had to be different." And they truly were. Instead of uniform face charts diagramming "the look," each models' face was posted on a wall with meticulous notes underneath: "turquoise paint splatter inner corner matching glitter" (Shanelle Nyasiase), "ice blue pencil top and bottom mascara" (Gigi Hadid), "pretty but masculine" (Binx Walton), and "supermodel gorgeous beauty" (Bella Hadid).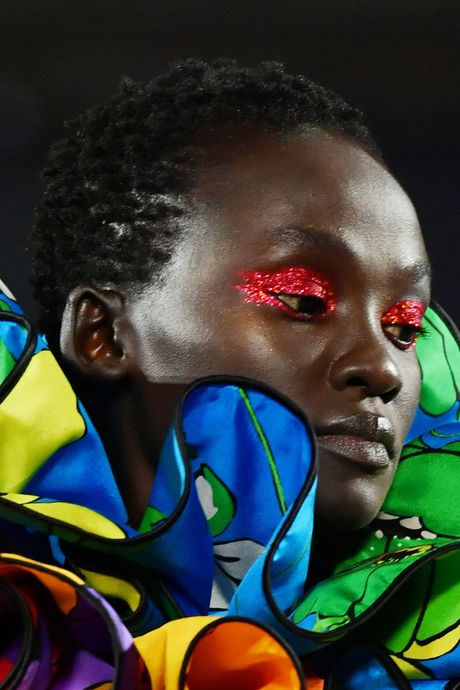 "It's Marc's idea of street life — a cast of characters. Some from another era, some from today, a mix of everything Marc likes, really," said Redken's Guido Palau, who was in charge of dreaming up the 60 hairstyles. By that measure, Jacobs likes a lot of hat-ready hair, the occasional haircut, double puff buns, a Shelley Duvall shag, an Andy Warhol shag, intricate braids, and proudly bad '80s perms interpreted with some humor through a modern lens. "Even when it's wrong, it's right. You have to do it in your way to make it you. Everything goes now," Palau added.
This reflection of real-life imperfection also shone through the nail looks overseen by Jin Soon. Styles were named after looks we're all familiar with: Chipped, Super Chipped ("When you leave your polish on for almost two months and the leftover polish sticks in the center of the nail"), and Boy Brushed, where two nails (often the pinky finger and ring) were painted haphazardly like an unpracticed boy might do it (so, not you, Harry Styles). There was also the chaotic "Random" (exactly what it sounds like) and more intricate nail art created by Mei Kawajiri.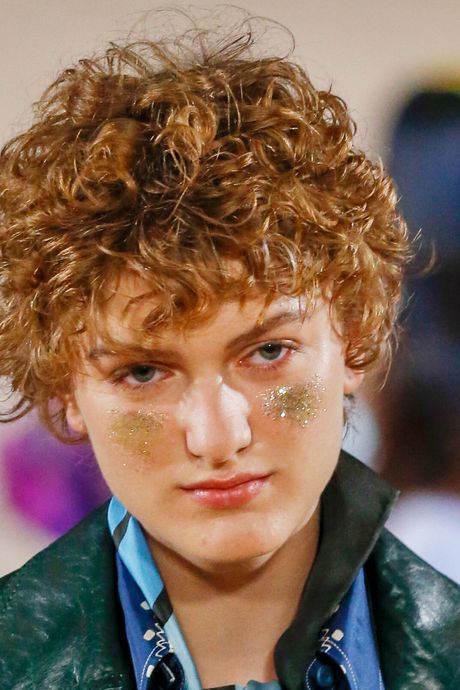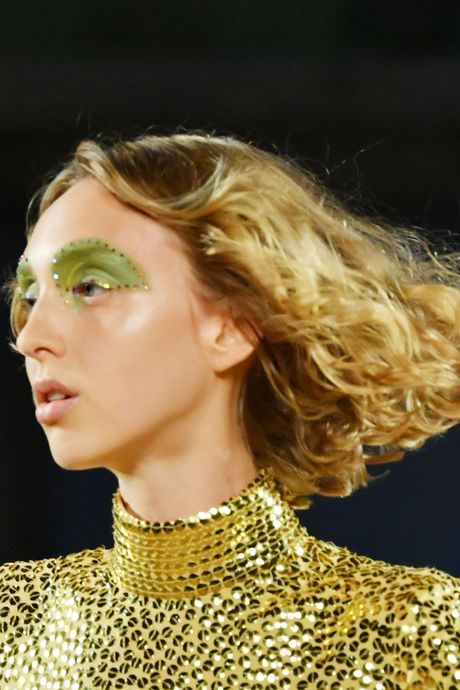 While everything was individualized, there were a few key products used across all looks. Palau relied heavily on Redken's Triple Pure 32 Neutral Fragrance Hairspray for maximum hold. All models' faces were prepped with Marc Jacobs Beauty Youthquake Gel Crème Moisturizer, and many of the eye looks got their pop from Marc Jacobs Beauty Highliner Gel Eye Crayon Eyeliner in the Buff, Peridot, and Whirlpool. Meanwhile, Soon relied on different combos of Marc Jacobs Enamored Hi-Shine Nail Polish, including Jane (a beige for the natural looks) and Midnight in Paris (a deep navy for the chipped ones).
"It's a nod to the real word, the way nowadays everybody loves to play with makeup," said McGrath. "Some people love truly eccentric looks, and some people love the art of natural-looking makeup. It's really about the characters, everyone being different and having fun."
"The ultimate is individuality and expression of who you are, and that can be anything. It's a more inclusive message of beauty," Palau echoed backstage, where there truly was something for everyone. I can't tell you how to get each look, but I can tell you that literally whatever you're doing right now — on top of your head, on your face, or all over your nails — is definitely on trend for spring 2020.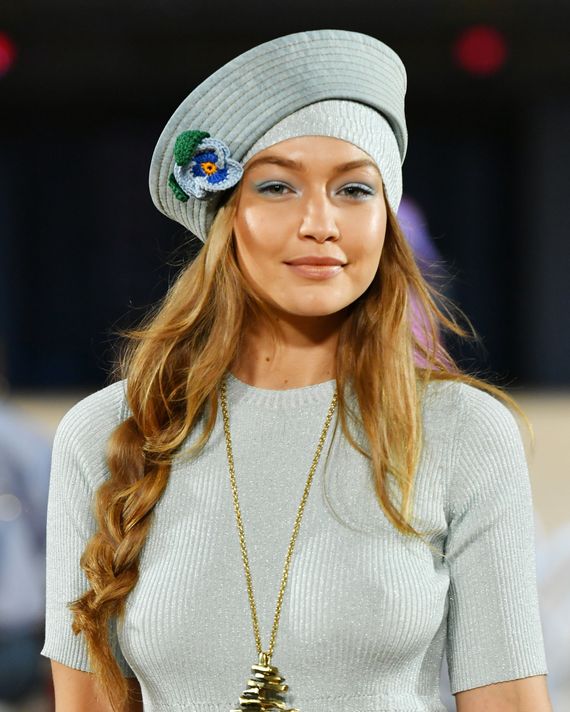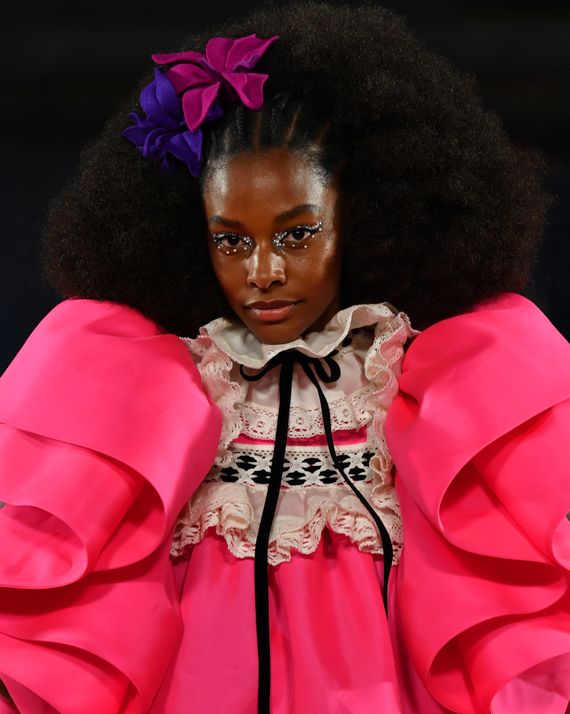 If you buy something through our links, New York may earn an affiliate commission.