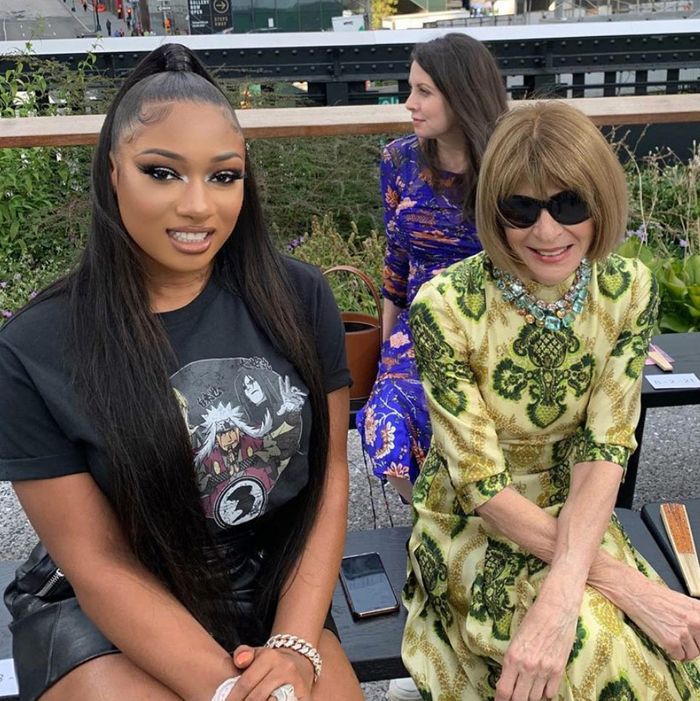 Megan Thee Stallion and Anna Wintour.
Photo: theestallion/Instagram
New York Fashion Week might seem to be all about clothes, but, really, it's a social event — not unlike back-to-school. There are new seating assignments and new cliques coalescing. The week may have ended on Wednesday night, but we'll never forget the friendships forged along the way. Like Megan Thee Stallion and Anna Wintour.
The two titans of industry crossed paths at the Coach spring 2020 show on Tuesday night. I don't think they were actually seated next to each other, but we commend Megan for gathering the courage to ask for a picture. (Or maybe it was her social-media manager, who deserves a raise either way.) Wintour must have known she was in the presence of greatness — look at that smile! Megan, meanwhile, looks slightly awkward, like she's posing for a first-day-of-school portrait. She shared the resulting image on Instagram with the caption "HOT GIRL ANNA." An honor!
As many have pointed out, this photo has layers. "Am I high or is this an actual real photograph of Megan Thee Stallion sitting next to Anna Wintour in a Naruto t-shirt," wrote one person on Twitter.
"Lmfao Megan thee stallion wore a fucking Naruto shirt to meet one of the most prominent fashion icons," wrote another.
As my colleague Callie Beusman explained, Megan's perfect crop top, which has cuffed sleeves and hits just above her bra, features an image of the Sannin, or the Legendary Three Ninjas from the village of Konoha, who are hailed as three of the greatest shinobi of their time. They are characters from the popular manga series and anime Naruto, which tells the story of a young ninja who wants to gain the respect of his peers and become the leader of his own village. So, extremely relevant to Fashion Week.
Coincidentally (or not), Megan Thee Stallion, who has expressed her love of anime before, was seated next to fellow Naruto superfan Michael B. Jordan, who was ALSO wearing merch from the show in the form of a Konoha village symbol patch. What does it mean?! Is Anna Wintour also a fan? All we know is that this seems to be the only fashion week clique worth joining.