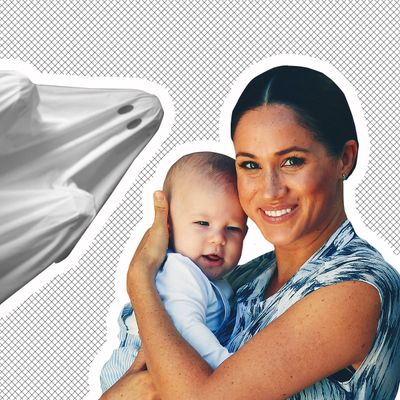 Well here's a very spooky question for the end of September, which is almost October, which, as you know, is Halloween: Is the body of the new royal baby Archie inhabited by an old ghost?
I ask because — I'm not sure if you saw — our beloved Meghan Markle and Prince Harry released a minute-long video of themselves and their baby, Prince Archie, in an Instagram story on their official SussexRoyal Instagram account. The video, which marks the third day of their tour of South Africa, documents the family walking to meet Archbishop Desmond Tutu and his daughter, Thandeka Tutu-Gxashe. You can see a bit of the walking here:
Aw. During the meeting, Prince Harry reportedly noted that Archie "constantly wants to stand." Oh, a little standing man! In response, Meghan said, "He's an old soul!" And then Harry said, "I think he is used to it already."
Yes, yes. He loves standing. He's used to standing (?) already. Oh yes, he's certainly an old — WHAT!
Oh my gosh. Yes, this is quite a scary bombshell, as you can tell by your own quivering limbs. Meghan Markle may have revealed that Baby Archie, who is potentially named after a cat who got fat after eating too many grapes, is merely a baby-shaped vessel for an — OLD GHOST!
But which old ghost? Well, that is certainly not for us to say. I'm sure the tabloids would love us to believe it is the ghost of Diana. But is that not a bit crass? I suppose it could be the ghost of Meghan Markle's former cat; that would be appropriate. But would a cat "constantly" want to stand? Hm. It's tough to say, because I would also assume a cat would not "constantly" want to eat grapes, and yet.
We might never know, or I suppose it is possible we could know once Archie begins to speak. Until then, we can only guess and shake with fear. Oh, Archie, you sweet boy, you little man, you old soul — AHH! BOO!