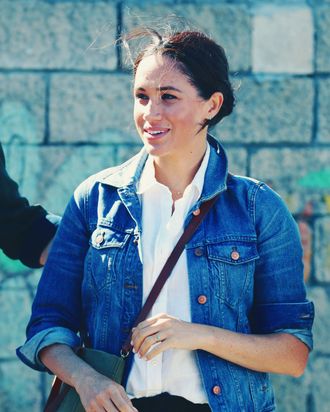 Meghan Markle wearing her "historic denim."
Photo: Chris Jackson/Pool/Getty Images
Meghan and Harry are on their royal tour of Africa, and you know what that means: a barrage of headlines about Meghan's sartorial choices, as well as sartorial choices made on behalf of Baby Archie (he reportedly wore a baby outfit as a tribute to Prince Harry, who also wore a baby outfit in his infancy). On Tuesday, among the flood of headlines came the following remarkable one from Hello! magazine:
"Royal FIRST! Meghan Markle surprises in denim jacket at the beach in Cape Town with Prince Harry"
Let us do a slower reading of that: Meghan Markle, who's the Duchess of Sussex, made the unprecedented decision to wear a denim jacket — historic denim, if you will. According to Hello!, Markle paired the jacket (from Madewell) with black jeans and flats during a trip to Monwabisi Beach in Cape Town, where she and Prince Harry learned about a program that aims to help young people struggling with their mental health.
On the subject of the jacket, Hello! reports that it was "certainly a royal first for a royal lady on an official engagement."
It's not unlike Meghan to push the boundaries of what's viewed as acceptable for a duchess to wear. At her very first Trooping of the Colour, Markle made the bold decision to sport an off-the-shoulder Carolina Herrera gown; she's also garnered quite a bit of attention for wearing black clothing, especially at weddings. Sometimes she breaks royal protocol, causing a flurry of panicked headlines from British tabloids — but sometimes she simply reimagines what it means to be a chic royal in 2019 without breaching unwritten rules. The historic denim, according to the tabloids, is a-okay.
Congrats to all of us on this major "royal first!"