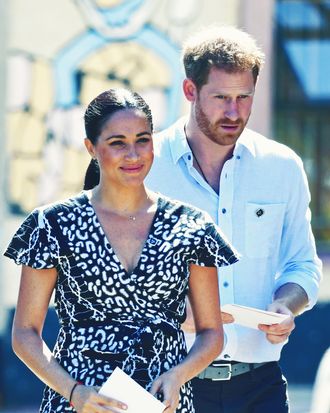 Meghan Markle and Prince Harry.
Photo: Dominic Lipinski/PA Images via Getty Images
Meghan Markle and Prince Harry have long defied the endless list of bizarre royal etiquette rules, to the extent that both of them have recently made headlines for … closing their own car doors. (I know.) But ahead of their big royal tour of Africa, the duke and duchess are really throwing caution to the wind, with the Daily Mail reporting that they have "ripped up the etiquette rule book."
Going into their ten-day trip across the continent, the duke and duchess of Sussex have made it explicitly clear that they don't want to be treated like, well, royalty, Vanity Fair reports. They want to come off as honorable but chill, in part to improve their popularity. Upon arrival in South Africa on Monday morning, Meghan and Prince Harry didn't walk down a red carpet, per tradition; instead, they headed straight to visit Justice Desk, an NGO in Cape Town that teaches classes on self-defense and empowerment to young girls. They want the public to know that they're in Africa to "do some serious work on the ground," per a source, and are not on "vacation." And according to palace aides, Meghan and Prince Harry have even expressed interest in being "addressed on first-name terms," in lieu of as "your royal highness," or sir or ma'am. Speaking of the couple's rejection of formality, a source told Vanity Fair, "It's very much how they want things done."
Meghan and Harry's brazen decision to reject formality, however, has made some officials nervous. "I have no idea how to speak to them," Jacky Poking, secretary of the Bo-Kaap Civic and Ratepayers Association, told South Africa's Sunday Times. "We haven't received any official brief on etiquette." To Poking, I would say, do not fret; Meghan and Harry — we're respecting their first-name-basis request — are cool royals.
It is unclear where baby Archie, who is also on tour, stands on following royal etiquette. We look forward to seeing if he takes after his unruly parents.