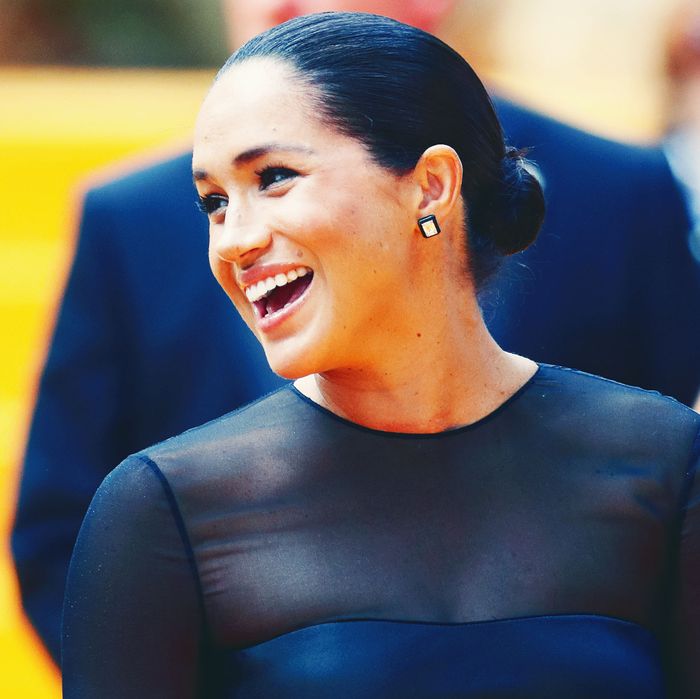 Photo: Max Mumby/Indigo/Getty Images
On Friday morning, Meghan Markle ditched her friggin' boys and hopped a flight to New York City for some tennis time, and I'll have you know she took a commercial flight, okay? Commercial!
Markle's last-minute trip (commercial) was made so she could get to the city and support her friend Serena Williams as she competes in the U.S. Open final this weekend. The trip was originally reported by the Times, whose source said Markle is "excited to support her friend, and then come back." (Yes, the addition of "and then come back" makes it sound like she actually plans to run away forever, which would make sense to me as life as a royal seems quite stressful, but I do trust that it is correct — she will support her friend, and then go back.)
If you're an observant royals-watcher, you'll note this means Meghan, Harry, and Archie's trip to Queen Elizabeth's summer residence in Balmoral, Scotland, will not be taking place as scheduled. But Hello! Magazine says not to worry: "Harry and Meghan see the Queen regularly when she is based at Windsor Castle, given that they live just a stone's throw away at Frogmore Cottage." Whew.
Will Meghan Markle also make plans to meet the timid U.S. Open ball boy whom we've all come to love and think about regularly while she's in town and at the U.S. Open, which is his home? There is no word yet, but we can hope.
(P.S. — She flew commercial!!!)