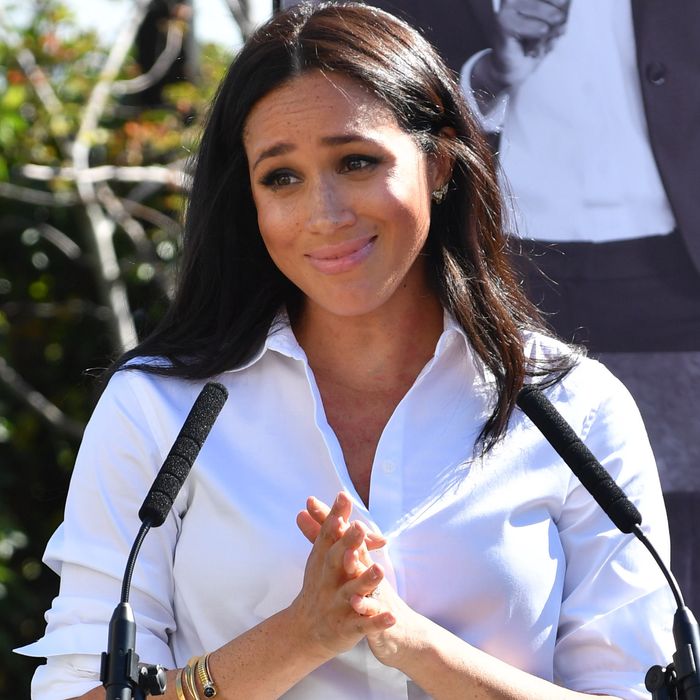 Photo: Mark Large/Getty Images
If you had hoped that someday Meghan Markle would reboot her pre-royal lifestyle blog, the Tig, it looks like that's never going to happen. While Markle's business manager, Andrew Meyer, reportedly filed documents allowing her to keep ownership of the website until 2021, it was apparently only done as a precaution so nobody capitalized on the name without Markle's permission.
According to People, a palace spokesperson confirmed that there are no plans to relaunch the Tig. "The lasting trademark is to prevent false branding, to avoid others purporting to be the Duchess or affiliated with her," the spokesperson said.
After launching the website in 2014, Markle shared the usual lifestyle blog content, like shopping picks, travel recommendations, recipes, and interviews with celebrities, including her close friend, Serena Williams. Markle decided to shut it down in April 2017, a few months before she became engaged to Prince Harry. Imagine giving up your blog for the throne!
In her goodbye post, which can still be seen on the the Tig's landing page, Markle wrote that it was time to say goodbye to her "passion project," and encouraged her readers to keep "finding those Tig moments of discovery, keep laughing and taking risks, and keep being 'the change you wish to see in the world.'"
The celebrity lifestyle market may currently be ruled by Martha Stewart, Reese Witherspoon, Jessica Alba, and Goop, but a Meghan Markle blogging comeback would have been a true joy. I , for one, would have looked forward to an autumnal stew recipe from the Duchess of Sussex.