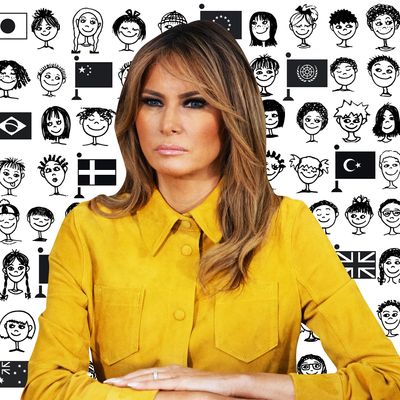 Photo-Illustration: by Preeti Kinha; Photos: Getty
One recent September morning, a seemingly innocuous email landed in the inboxes of the third and fourth grade parents at the United Nations International School, the New York City K-12 private school connected to the U.N. "Special event for J3/J4 Students," read the subject line. For the polyglot set of professionals, academics, creatives, and diplomats, invitations for their children were common — one of the perks of sending their kids to the U.N. school is having them attend things like a fireside chat with the Deputy Secretary-General. But this one was different.
Third and fourth graders had been specially extended, wrote junior school principal Pascal Vallet, a "unique opportunity." On Monday, September 23, ten lucky students would get "to tour the Stock Exchange and participate in ringing the opening bell with the First Lady of the United States, Melania Trump."
The grapevine of parent cell phones and email addresses worked as urgently as a wartime wire service. "When I saw the letter, my jaw dropped and I stood frozen for a minute," someone wrote.  One mom told another mom, "I'm about to scream." There was talk of picket signs at pick-up.
Tuition for a four-year-old at the United Nations International School, or UNIS, costs $38,600. But for many parents, the Manhattan campus, jutting out into the East River a mile south of U.N. headquarters, is a kind of it's-a-small-world-after-all humanitarian utopia. Especially for those at the junior — or elementary — school. "You're actually sort of shunned if you're a hedge-funder," claims one. The children of U.N. employees, who attend with the support of U.N. subsidies mingle with those of non-U.N. parents who pay full tuition. Students solve conflicts around classroom "Peace Tables" (there is a Peace Bench in the playground). They were treated by grief counselors after the election of Donald Trump. There are "trans kids, mixed-race kids," one mother told me. "It's our little safe haven. And this administration has attacked this haven and everything it stands for."
It didn't matter that the ten children would accompany FLOTUS only on a volunteer basis, chosen at random from those whose parents signed them up. Melania's confusing "Be Best" anti-bullying cause hasn't exactly taken off, and she wanted, as one father put it, "the imprimatur" of the U.N. She wanted "the sweet faces of 'diverse' UNIS" kids, wrote someone else, lined up behind her like the side of a UNICEF box. Though Nikki Haley's children had gone to UNIS during her tenure as U.N. Ambassador, she had never caused a media scene, a parent told me — "though we always thought it was strange she sent her kids here, given her stance on the U.N."
Melania was an incursion on an institution that had felt insulated from the indignities of the current administration. Trump Tower, 50 blocks away, might as well have been overseas. Parents began immediately sending impassioned condemnations to Vallet: "Instead of enlisting some photogenic kids as UNIS PR props, might I suggest we offer to the U.S. Mission that they could invite some children from the cages in Mexicali?" one woman wrote, cc'ing the school's director.
By Tuesday night, though the White House had requested confidentiality, the story had leaked to the press. A "profoundly disappointed" U.N. employee and parent had written to U.N. Undersecretary General Catherine Pollard. Vallet and the director, Dr. Dan Brenner, usually visible on campus, were supposedly "hiding." I got a text that said, "We're organizing."
The next day, UNIS leadership finally addressed the controversy in another email. Brenner let it be known that, despite the outrage, the event would occur as scheduled. He maintained that "debate and dialogue are fundamental" to the U.N.'s core mission; the school even planned to present the First Lady with a framed copy of the UNIS Mission Statement, which promises that students will become "an active force in shaping a better world." And he claimed that "over 90 families" from the third and fourth grades had volunteered. "We can't believe it," one mother said.
If diplomacy is what made UNIS a wonderful place for the parent intelligentsia, it was now getting in their way. Galvanizing people notorious for decorum was difficult, even if they hailed from countries the American president had insulted. No one was planning to speak out publicly. Part of their objection was that "the host country should not be partisan," one non-U.N. international parent explained, which made open dissent difficult. "People who work at the U.N. are worried about their jobs." By Wednesday night, machinations of the outraged had the tenor of international espionage; even the most ardent insisted we speak over an encrypted messaging app.
"There's all kinds of shit going on," said one parent. "Lots of paranoia." No one had yet heard from a single family who had signed up their child for propaganda. Some of the parents were focused on a "witch hunt." Had the amount, roughly half of the 3rd and 4th grade classes, been inflated? Who was the director trying to appease? Dr. Brenner did not return a request for confirmation on how the 90-plus number was calculated. Some people heard secondhand that so-and-so parents "were told they had to" sign up.
Had it all been timed with the week when the high schoolers would be away on a class-wide retreat, without their phones, unable to tweet and post Instagram stories with the hashtags parents had devised? (#Nomelania was one of them.) Whether it had or not, there were "machinations afoot." A fourth grader had started a petition, I heard. I was told urgently on Wednesday night to watch Rachel Maddow. But nothing happened.
As of now, the bell-ringing is still on, though according to an agitator "some things are still in the works." The First Lady's spokesperson confirmed to CNN, in a story that did not mention the discord, "Mrs. Trump will be taking part in an iconic New York City tradition, and encouraging children to be best, through her initiative."
Of course, despite his "America First" doctrine, the Trump administration routinely works with the leadership of foreign governments in mutually beneficial arrangements. In that respect, 90-plus families isn't so hard to believe. For the betrayed, the conspiracy knows no bounds. Another email sent this week from the middle school principal, which had seemingly discouraged students from attending Friday's climate strike, was simply too sinister of a coincidence. The FLOTUS field trip, after all, was scheduled for the very same day as the UN's Climate Action Summit. "They are worried about antifa, or that they are being partisan? What the heck?" a parent wrote. "Did they get a big check from a GOP person or from the Koch Bros? It's all very dark."