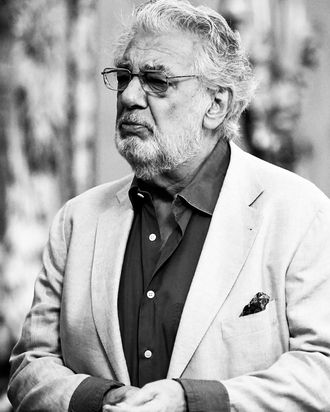 Photo: Carlos Alvarez/Getty Images
In a last minute move, embattled opera superstar Plácido Domingo has announced that he will leave the Metropolitan Opera in New York, one day before he was scheduled to star in Verdi's Macbeth tomorrow. Domingo has been accused by 20 women of sexual harassment and intimidation.
"I made my debut at the Metropolitan Opera at the age of 27 and have sung at this magnificent theater for 51 consecutive, glorious years," Domingo said in a statement. "While I strongly dispute recent allegations made about me, and I am concerned about a climate in which people are condemned without due process, upon reflection I believe that my appearance in this production of Macbeth would distract from the hard work of my colleagues both onstage and behind the scenes. As a result, I have asked to withdraw and I thank the leadership of the Met for graciously granting my request."
He also said that in addition to pulling out of Macbeth, his dress rehearsal for the show would be his "last performance on the Met stage." The Met in turn released a statement that seemed to indicate he was asked to leave: "The Metropolitan Opera confirms that Plácido Domingo has agreed to withdraw from all future performances at the Met, effective immediately," it said. "The Met and Mr. Domingo are in agreement that he needed to step down."
The news is a reversal from the Met's apparent position earlier today: On Tuesday morning, NPR reported on a bizarre meeting held by the opera's general manager over the weekend, where he told concerned employees that Domingo had not been suspended because the accounts of his 20 accusers — the subject of an extensive investigation by the Associated Press, which interviewed nearly three dozen people — have not been corroborated.
Domingo has been accused of a range of misconduct over the span of three decades, including forced kissing and professionally retaliating against women who had refused his sexual advances. In the wake of the AP report, the LA Opera — where Domingo has served as a director for over ten years — announced it was launching an investigation into his behavior, as did the American Guild of Music Arts, the union that represents the performers and technical staff at the Met. Yet the Met itself took no such immediate action.
On Saturday, NPR published statements from four anonymous Met employees who objected to Domingo's continued presence there but felt afraid to speak up. The same day, general manager Peter Gelb gathered members of the opera's chorus to reportedly discuss why the embattled star will still perform.
During the meeting, Gelb allegedly offered several explanations and seemed to cast doubt on both the AP's reporting and the experiences of Domingo's 20 accusers.
According to NPR, Gelb claimed the women had come forward "only to the AP and not to other credible news outlets as well." (Employees say Gelb "specifically cited" the New York Times, where his father once served as managing editor, as one such "credible" outlet.) He also said the AP's story lacked "corroboration," though the AP said it had corroborated the women's stories and spoken to nearly three dozen people who said they had witnessed "inappropriate sexually tinged behavior" by Domingo. Gelb allegedly cited the accusers' anonymity as a reason to doubt their accounts. An employee apparently challenged him, saying two accusers, Patricia Wulf and Angela Turner Wilson, have since come forward by name.
In a statement to NPR, the Met said that Gelb had "reiterated how seriously the Met takes accusations of sexual harassment and abuse of power" and that the "fair thing to do" was to wait for the LA Opera and AGMA investigations to be complete. A few hours later, it announced Domingo's departure.
Employees at the meeting were reportedly upset that Domingo was continuing to work at the Met, especially when the decision is compared with the Met's handling of its former music director James Levine. In 2017, three men accused Levine of sexual abuse (their number eventually grew to nine); he was soon suspended and was fired after an investigation. One female chorister told NPR, "Plácido Domingo is a huge cash cow, and sometimes I feel like management cares more about money and reputation … I feel that Peter Gelb is saying, 'I don't have a problem exposing my artists to such situations.'"