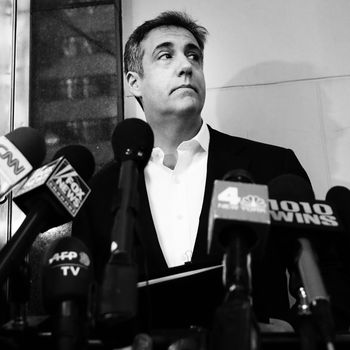 Michael Cohen.
Photo: Spencer Platt/Getty Images
Michael Cohen, President Trump's former lawyer and fixer, is currently serving a three-year prison term at the federal prison in Otisville, New York, for lying to Congress, financial crimes, and campaign finance violations, including paying two women hush money ahead of the 2016 election so they would keep quiet about their affairs with Trump. And guess what, haters? He's absolutely loving it.
As Cohen's lawyer, David Schwartz, told "Page Six" this weekend, he and Cohen know that people are hoping Trump's former lawyer "is getting beaten up every day in prison," but, egg on their face, because according to Schwartz, Cohen is "literally the mayor of the prison."
"He's doing great: The other inmates call him 'Mr. Mayor,'" Schwartz said. "He's a celebrity in the jail. Everybody is coming up and shaking his hand. He's enjoying hanging out with the other inmates."
And for the spiritual delinquents who previously voiced their horniness for Cohen, Schwartz added that the soft-spined, wet-eyed lawyer is looking hotter than ever.
"Michael has a job fixing fire hydrants. He really enjoys his work. He looks great — he is tan, works out every day and has lost more than 30 pounds. He sleeps in a cubicle with a bed, night table and a desk … He is basically very unstressed. The only downside is he misses his family."
Maybe this is all true. Or maybe it's another one of Cohen's thirst scams, like @WomenForCohen, the fake Twitter account Cohen reportedly paid an IT firm to run, that included tweets like, "In a world of lies, deception and fraud, we appreciate this honest guy @michaelcohen #tgif #handsome #sexy.'"
Sure, Michael.