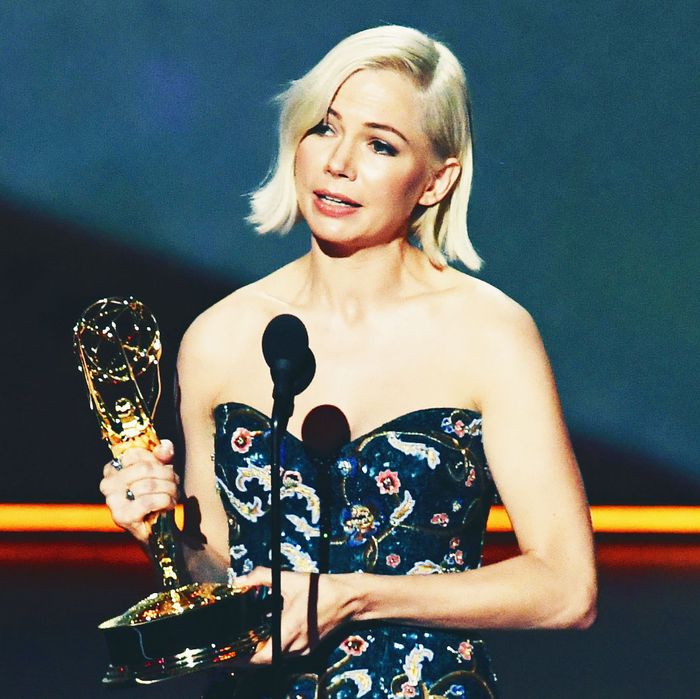 Photo: Kevin Winter/Getty Images
At the 71st Primetime Emmys, Michelle Williams took home the award for Outstanding Lead Actress in a Limited Series or Movie for her role as Gwen Verdon in Fosse/Verdon. In her acceptance speech, Williams opened up about how when she asked the studio for specific things to help her settle into her role — more dance classes, singing lessons, a nice wig, and higher quality fake teeth — she wasn't met with resistance, which led to her success:
My bosses never presumed to know better than I did about what I needed in order to do my job and honor Gwen Verdon. Thank you so much to FX and Fox 21 studios for supporting me and for paying me equally, because they understood that when you put value into a person, it empowers that person to get in touch with their own inherent value, and then where do they put that value, they put into their work. And so the next time a woman and especially a woman of color, because she stands to make 52 cents on the dollar compared to their white male counterpart, tells you what she needs in order to do her job, listen to her, believe her, because one day she might stand in front of you and say thank you for allowing her to succeed because of her workplace environment, and not in spite of it.
Williams's award and speech could be considered a happy ending to the pay-disparity scandal she endured in 2018, when it was revealed that she was paid less than one percent of what her co-star, Mark Wahlberg, made during reshoots for their 2017 film, All the Money in the World. (Wahlberg ended up donating his entire $1.5 million salary to the organization Time's Up.)
Unsurprisingly, Williams's speech garnered applause from the audience and accolades on Twitter, along with tears from Lin-Manuel Miranda and her longtime friend Busy Phillips, whom she brought as her date. Williams ended her speech with a shoutout to her 13-year-old daughter with Heath Ledger. "Matilda this is for you, like everything else," she said.