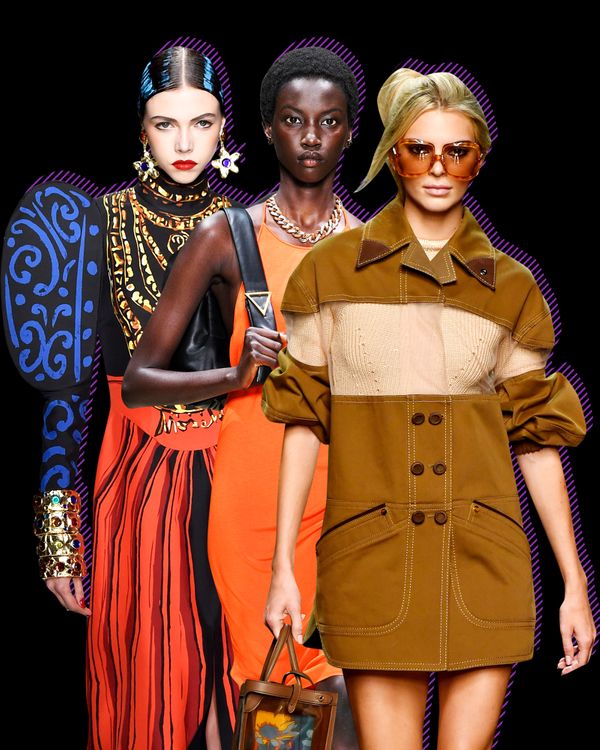 Left to right: Moschino, Bottega Veneta, Fendi.
Photo: Getty Images
On day three of Milan Fashion Week, while waiting for the Sportmax show to start, an editor leaned over and told me she'd packed 14 pairs of shoes and nothing to wear them with. It sounds excessive, but I could sympathize. No, I didn't pack 14 pairs of shoes. (I proudly narrowed it down to six and have worn only two thus far.) But when I get dressed in the morning, I often find myself taking a shoe-first approach — as I think a lot of people do in this sneaker-obsessed age.
Accessories have always been key to the success of a brand — especially for the Italians, who are known for their leather goods — but today they seem to play a leading role, oftentimes overshadowing the clothes on the runway. This was the case on Thursday, particularly at shows like Max Mara, Fendi, and Bottega Veneta.
At Max Mara, the show opened with Gigi Hadid flanked by Candice Swanepoel on her right and Doutzen Kroes on her left. They all wore militant gray uniforms with neckties, their hair braided into pigtails. So I guess I need a tie, I thought to myself as they stomped past. The collection was inspired by both Killing Eve and the upcoming James Bond movie — the script for which Phoebe Waller-Bridge also consulted on. It supposedly "treats women fairly" this time around, and Max Mara took the liberty of imagining a spy wardrobe for its a strong female leads. I was a little disappointed that the designer seems to have taken the male Bond uniform and fitted it to a woman's body, but I really do want a tie, so I'll take it.
At Fendi later that day, Silvia Venturini Fendi showed her first solo collection since the death of Karl Lagerfeld, who had worked with the house for over 50 years. The message was loud and clear: It's a new dawn for the brand, and the sun is shining. The collection had softness and warmth — a personal touch. It wasn't trying to be too fashionable, or luxurious to the point of impractical. With looks inspired by the '60s slapstick film Carry on Camping, the models wore bright floral prints and large tinted glasses reminiscent of the grooviest decade. They weren't hippies, or "freaks" as the Italians called them, but their hair was messy and I wanted to hitchhike to wherever they were going.
I probably sound like a real sucker by now, but I knew I wanted a chunky chain necklace before Daniel Lee even made his Bottega Veneta runway debut. You may have seen the Bottega campaign that's plastered everywhere — the one with a model wearing nothing but, you guessed it, a chunky chain necklace. It announced Lee's arrival at the brand in January, and I was sold. You've also probably seen a bunch of influencers wearing his accessories lately — the fishnet heels, thick combat boots, and quilted bags, for example. Some seem to have been gifted, but retailers claim they're flying off the shelves. This is good news for Lee: It presumably puts him on solid financial ground and allows him to experiment with clothing in the meantime. Like his accessories, the collection (his second) played with hard and soft — although it leaned toward the latter this season, meaning it seemed more wearable. The balance still felt a bit off for me; I didn't find pieces like a drop-crotch leather boilersuit with shorts, for example, as flattering or seductive as, say, a buttery-leather clutch. But judging by the feet of everyone in the front row, a significant part of the equation is working.
The night ended with what amounted to a walking museum show at Moschino. Jeremy Scott seemed to reproduce Picasso's entire oeuvre for the runway, from Girl With a Mandolin to Les Demoiselles d'Avignon. Wearing a giant gilded frame might not be practical, but what else is an accessory, really, anyway?