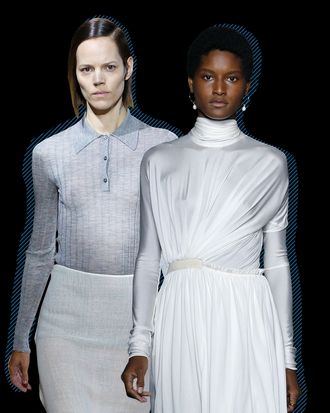 After reading Tavi Gevinson's New York cover story about her life on Instagram, I've been thinking a lot about who I would be, and more specifically what I would wear, if I wasn't online.
On Thursday afternoon during Milan Fashion Week, Prada gave me some idea of what that might look like. The brand's spring 2020 show opened with Danish model Freja Beha Erichsen — the "queen of cool," who made her Prada debut in 2005, long before Instagram — wearing a sheer white gauze skirt over a gray ribbed knit top, which buttoned all the way up to the collar. Her hair was slicked into side part, and her makeup was minimal. On the surface, it couldn't have been simpler, but the audience buzzed with excitement.
At first, this surprised me. But the buzz wasn't just about the look. "Omg I was addicted to Freja in high school," a friend, who was born in 1993, DM'd me after the show. I realized that to be obsessed with Freja in a pre-Instagram world meant that my friend actually had to take the time to look her up. She existed as a fully-formed person, not another avatar drifting by in an endless, mind-numbing feed.
Prada's show was an ode to individuals like Freja. By stripping the collection down to basics — sharp blazers, slimming skirts, easy dresses — Mrs. Prada hoped to highlight "the power of women over clothing, and of style over fashion," as the show notes explained. In other words, it's not about how trendy or flashy the piece is, but how the wearer fits it into her personal wardrobe. Raw hems and necklaces made of pearls added to a sense of improvisation. "An instinct," as Prada calls it. Some might also call it cool.
This notion of radical simplicity was a continuation of the ideas Prada expressed at her most recent resort show, which took place in New York this spring. I found this iteration to be much more sophisticated and engaging, though. Not only did the styling give agency to the whims of the wearer, but the clothes themselves also had a point of view. They refused to adhere to a time period, occasion, or any sense of neatness.
"In this moment where everything is excess — too much fashion, too many clothes — I tried to work it so the person is most important," Mrs. Prada told press afterwards. You could read this "less is more" attitude as a response to our current climate crisis. (The show happened to take place on the same day as Greta Thunberg's plea to Congress.) And the collection did embrace resourceful craftiness, as well as recycled prints, silhouettes, and accessories from the '20s, '70s, and the '90s, which were combined in a single outfit.
But I also saw Mrs. Prada's desire to simplify clothes in order for women to play with them as a critique of influencer culture. It was a challenge to everyone chasing whatever look will scream the loudest on Instagram, as opposed to using their brains to put together an outfit. "I felt so bad for them," said one editor afterwards, laughing at the expense of all the influencers in the audience who suddenly found last season's pop-horror, Bride of Frankenstein shirts out of style. As a way of dressing, it is unsustainable.
At Jil Sander on Wednesday night, designers Luke and Lucie Meier also offered their own interpretation of artful simplicity. (They opened a new white-wall-gallery-slash-store on Via Sant'Andrea that same day as well.) Of course, minimalism is in the brand's DNA, but the duo took more risks this season, incorporating swirling prints and crafty embellishments. The collection had a more distinct personality than previous ones; I now have a better sense of the designers' point of view, and it's a convincing one. Still, I'm not quite sure who Jil Sander woman is, other than well put-together.
As Cathy Horyn wrote in her review of Marc Jacobs last week, the best collections this season not only rethink how to dress, "but also how to be." Prada was to my wardrobe as Google docs were for Tavi: a step back, and a clean slate.