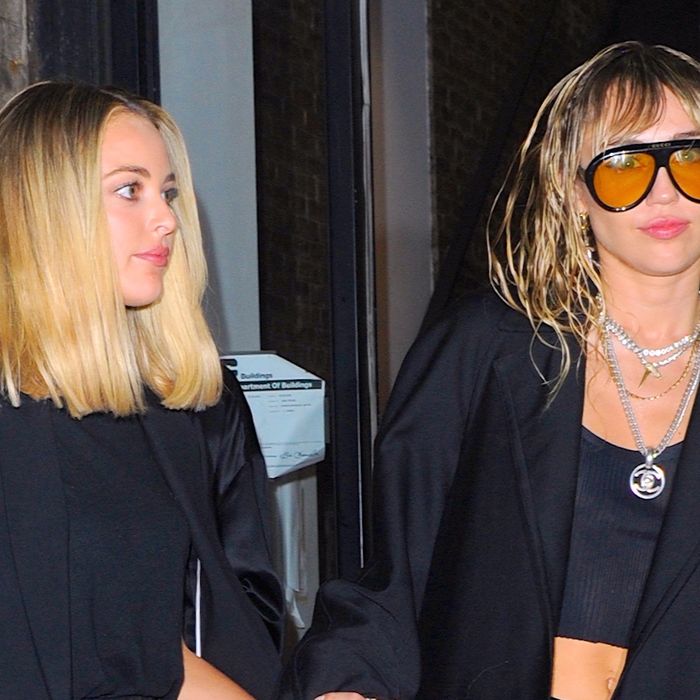 Pour one out for Miley Cyrus and Kaitlynn Carter, the most exciting (if not only) double-rebound relationship of 2019, because their romance has sadly come to an end. According to E! News, a source close to Cyrus said that the monthlong relationship was starting to get serious, but the singer was not down with that. Alexa, please play "Can't Be Tamed" by Miley Cyrus.
Cyrus and Carter were rumored to have begun dating in August, shortly after their respective relationships came to an end, with Cyrus announcing her divorce from husband Liam Hemsworth and Carter splitting from her longtime boyfriend — and The Hills: New Beginnings co-star — Brody Jenner. "When they first got together, it was just a fun casual thing, but it ended up becoming a lot and there were big emotions attached," the source told E!. "It went from zero to 60 and she wanted to put on the brakes. It was unexpected to end things so abruptly, but it had to be done. She just got out of her marriage and Miley felt like she and Kaitlynn got carried away."
Cyrus and Carter have not publicly commented on the breakup, but a source told People that they are still on good terms. "They've been friends forever and were there for each other when they were both getting separated, but they're just not in a romantic relationship anymore," the source said. If you'd like some proof of their continuing friendship, Carter recently commented on photo in Cyrus's Instagram with a very supportive, "GET IT!!!!!"
So, that's a good sign, unless you'd like to analyze Cyrus's latest Insta caption, which reads, "I hate talkin shit but uhhhhh" *sips tea* ( j/k I love it)." Miley, what does it mean? Never mind, I'm sure it's nothing and these two women will be fine!!! And, who knows, maybe Cyrus will come out with another new breakup song.