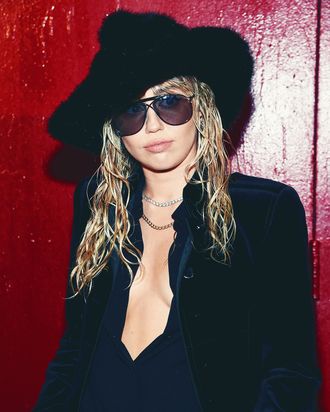 Miley Cyrus, water woman.
Photo: Jamie McCarthy/Getty Images
Miley Cyrus has a new look — one that says "I live by the sea and lure unsuspecting mariners to me with my bewitching music, and then devour their organs."
In recent appearances at the VMAs and New York Fashion Week, the singer has sported a blonde, banged hairstyle that appears to be completely wet, as if she had just emerged from a long day of slinking along the waters outside of her Malibu home, like a siren from The Odyssey, the one who drives Ulysses mad with her song about MDMA.
Cyrus debuted her new look in the midst of a summer full of personal drama. In August, she and her husband Liam Hemsworth announced they were separating after six months of marriage. Shortly after, she was seen furiously making out with Brody Jenner's ex-wife, Kaitlynn Carter, in Italy, and now the two women seem to be together, even though Kaitlynn's hair appears to be dry most of the time.
Shortly after she and Liam announced their separation, Miley released "Slide Away," a water-based breakup single in which she says she's "gonna miss these harbor lights," and invites Liam to "slide away, back to the ocean," while she goes "back to the city lights." She performed the song at last month's VMAs, her blonde hair slicked down and wet with what seemed to be petroleum jelly and the souls of sailors. So, actually, it seems like she's the one sliding back to the ocean?
Anyway, hopefully Miley can stop Atlantis's King Orm before he declares war on the surface world.