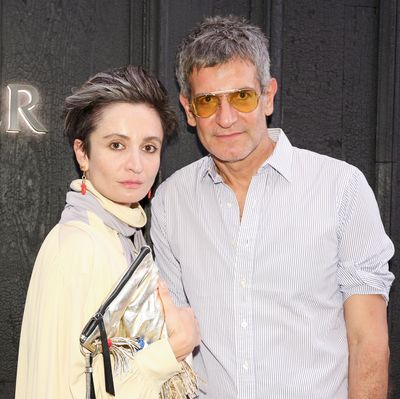 Photo: Courtesy of Moncler
For many New Yorkers, the puffer coat is a wardrobe staple. It feels like a natural extension of the city's energy, both practical and in-your-face.
What would convince someone in Milan, or Tokyo, or Beijing, though, to put on a puffer coat in the morning when they're getting dressed? Someone whose style is more minimal? Or punk? Or preppy? The Italian heritage brand Moncler has been working for decades to bring luxury performance outerwear down from the mountain and onto the streets, and this was the challenge in-house designers Veronica Leoni and Sergio Zambon faced for the 2 Moncler 1952 collection, which debuted in New York on Wednesday.
Leoni, who was dressed in a roomy beige dress, said she started with herself as muse. What kind of Moncler puffer coat would a woman who wears Phoebe Philo earrings, for example, want in her closet? The answer was a quilted tunic of the same shade of beige, with a drawstring waist. She also created a lovely white coat with a ginkgo leaf print, and reimagined the motorcycle jacket and the classic tweed Chanel coat, merging uptown and downtown aesthetics.
For menswear, Zambon channeled the ease and flair of the 1970s with tie-dye and fringe. (Like Leoni, he may have been inspired by himself — he was wearing a pair of '70s-inspired, orange-tinted aviator glasses.) "In Italy, they used to call the hippies 'freaks,'" he said of a fleece jacket with the word printed in all caps across it. He meant it in the best possible way.
What brought the two collections together was a new collaboration with the Italian handbag brand Valextra, which is also based in Milan and was founded in 1937. CEO Sara Ferrero said the pairing was natural. "I see something I like and I'm like, 'Ooh! I'm going to see if we can do a collaboration.'" The collection includes quilted cross-body straps and weekend bags, perfect for travel. "It's a personal interest that becomes a real interest for the company, so it's honest," Ferrero added. "I think it's that honesty that engages myself, the team, and then ultimately, the public." The collection sold out in three days in Japan and China, so mission accomplished. See a selection from the 2 Moncler 1952 collection below.