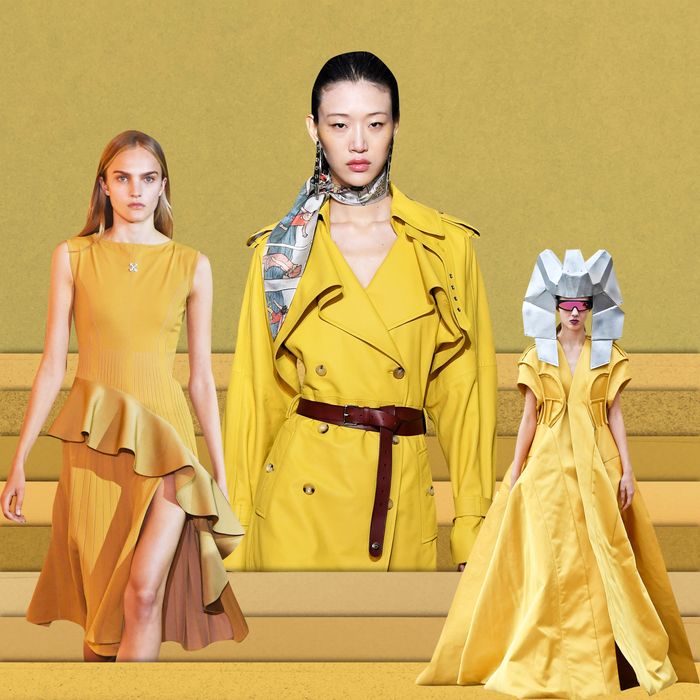 Photo-Illustration: by Stevie Remsberg; Photos: Getty
When one thinks of glamorous colors, mustard rarely comes to mind. It's trendy, maybe, but not glamorous. Of course, up until last year, "slime green" probably didn't feel all that glamorous either. So, let me posit that one of the color trends emerging from Paris Fashion Week was closest to a French's yellow, or maybe a grainy Dijon, as seen at Rick Owens, Margiela, Off-White, and more.
Designers have recently enjoyed using either rainbow brite colors, or exclusively muted neutrals. (Beige, anyone?) Mustard is different: It's bold, but also muddy. It's not neutral, but it does offset other shades surprisingly well. Take Rick Owens's show. Owens is known ⁠— above all ⁠— as a goth. But his show was uncharacteristically optimistic; there were bubbles, for god's sake. And amid all the black and white and gray, there were splashes of mustard, often accented with touches of bubblegum pink. Is mustard the color of goth happiness?
At Margiela, the mustard was paired with maroon. At Dries, mustard pants went with a red blazer. At Lanvin, a mustard trench offset an oxblood belt. Mustard makes everything better, without losing its own personal character ⁠— a statement you could make about the color, but also the condiment.