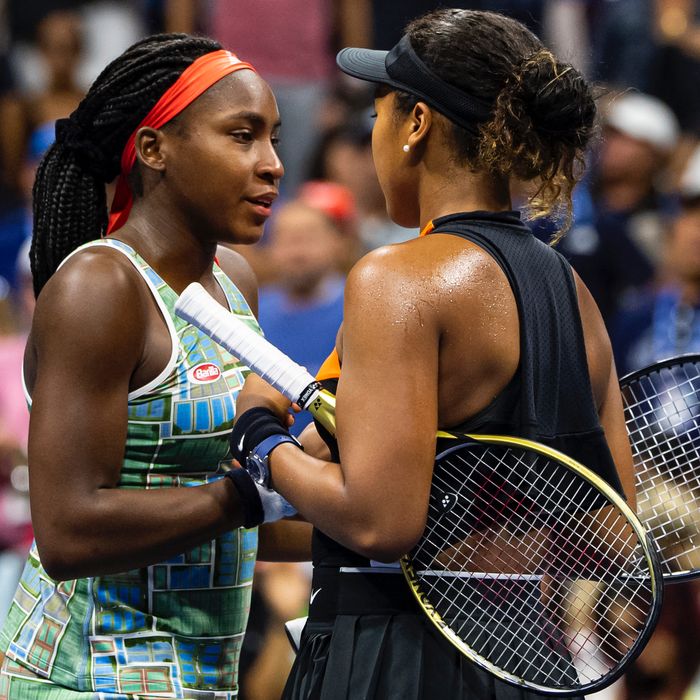 Saturday's match at the U.S. Open between Naomi Osaka and Cori "Coco" Gauff was significant for a number of reasons. Not only did Osaka beat Gauff 6-3, 6-0 in their first match against each other, but the interaction between the two tennis stars afterward was a pivotal moment in the history of the sport.
After winning the match, Osaka asked an emotional Gauff to join her during her winners' interview with ESPN. "These people are here for you," the 21-year-old Osaka told the 15-year-old Gauff. "I think it's better than going into the shower and crying. We have to let these people know how you feel." Through tears, both women praised each other in the interview, with Osaka giving a shout-out to Gauff's parents. "You guys raised an amazing player," she said. "I used to see you guys training in the same place as us. The both of us made it and are working as hard as we can. I think this is the most focused I have been since Australia."
Later, during a press conference, Gauff described Osaka's kind gesture toward her as proof she was a "true athlete," saying, "the definition of an athlete is someone who on the court treats you like their worst enemy, but off the court can be your best friend. And I think that's what she did today." Osaka also shared that her invitation to Gauff was "instinctive." "I feel like the amount of media on her right now is kind of insane for her age," Osaka said. "I just want her to, like, take care of herself."
Last year, Osaka displayed the same kind of grace after beating her idol, Serena Williams, during 2018's controversial U.S. Open final. Williams had lost to Osaka in a straight-sets defeat after she was given triple code violations from chair umpire Carlos Ramos, leading her to accuse him of sexism. During the trophy ceremony, the crowd booed Williams's loss, and Osaka was in tears. At the time, Williams displayed compassion and good sportsmanship toward her opponent, asking the fans not to boo, and she also did so in a letter she wrote to Osaka afterward.
"I thought I was doing the right thing in sticking up for myself. But I had no idea the media would pit us against each other," Williams had written. "I would love the chance to live that moment over again. I am, was, and will always be happy for you and supportive of you. I would never, ever want the light to shine away from another female, specifically another black female athlete. I can't wait for your future, and believe me I will always be watching as a big fan!" Osaka responded: "People can misunderstand anger for strength because they can't differentiate between the two. No one has stood up for themselves the way you have and you need to continue trailblazing."
Williams has also shown support for Gauff, saying she admires the teen's "excitement" on the court. "I think she's just incredibly talented, you know. I think anyone that's 15 playing like that, people are going to be drawn to them," she said.
Both Osaka and Gauff are at the beginning of their careers, both of which will undoubtedly reach extraordinary success. The sports industry, especially tennis, can be a ruthless, petty place. It's refreshing to see these young women support each other, despite being positioned by the world
as enemies.