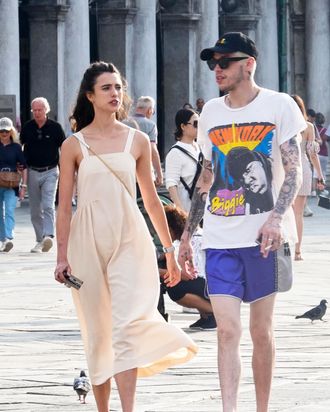 I'm not gonna say that comedian Pete Davidson and actress Margaret Qualley are moving quickly because, well, it's all relative, but the two are already traveling to Italy together for business and pleasure.
Last week, multiple outlets reported that Davidson and the Once Upon a Time in Hollywood star are dating. Mere days later, on Monday, the two were seen strolling arm-in-arm through a Venetian piazza, equipped with the staples of a romantic getaway: a camera that is not on a phone and cigarettes. A source told E! News that the couple "looked comfortable together and walked close. They checked out little tourist stands and were chatting the entire time. They walked down narrow alleyways and let their shoulders bump. They never stopped holding hands." Except in the image above, perhaps because one of them (Pete?) had an itch.
The couple has been in Italy since at least Friday, when they attended the premiere of Qualley's new film, Seberg, at the Venice Film Festival. Davidson was not on the red carpet, but he was seen seated directly behind Qualley at the screening. So we know at least that the relationship is moving at a rate too fast for VIP-seating charts to comprehend. Us Weekly reported that on Sunday, the two dressed up and got in a water taxi "laughing together as they headed out for the evening."
Last week, a source told Us Weekly that "[t]hey've been seeing each other for a couple of months and Margaret is really excited about him."
I'm haunted by the image of Qualley and Davidson's shoulders begrudgingly touching in a flagrant display of affectionate torsos, but otherwise this seems nice!