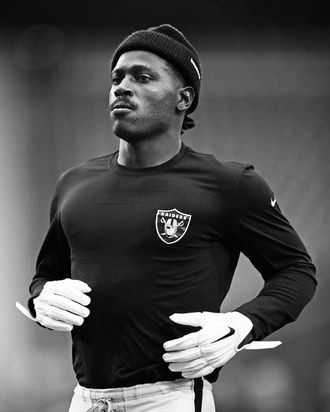 Antonio Brown.
Photo: Christian Petersen/Getty Images
NFL wide receiver Antonio Brown has been accused of raping a woman who worked as his trainer, according to a federal lawsuit filed yesterday in the Southern District of Florida.
The lawsuit was filed by Britney Taylor, a gymnast who met Brown when they were both attending Central Michigan, and was later hired by him as a physical trainer, ESPN reports. In the suit, Taylor alleges that Brown sexually assaulted her on three separate occasions in 2017 and 2018. During a training session at Brown's Pittsburg home in June 2017, Taylor claims that Brown exposed himself and kissed her without consent. A few weeks later, Brown allegedly masturbated and ejaculated on Taylor's back, and later bragged about the incident in a series of text messages.
According to the lawsuit, Taylor ended her working relationship with Brown after that, but saw him again several months later after he contacted her to apologize. In May 2018, after a night out at a Miami club, Taylor says that she went to Brown's home, where he "forced her down onto a bed, pushed her face into the mattress, and forcibly raped her."
In a statement released last night, Brown's lawyer said that he denies "each and every allegation in the lawsuit." The statement said that Brown and Taylor had had consensual sex at least once, and said that "any sexual interaction with Mr. Brown was entirely consensual."
The suit came just days after Brown signed with the New England Patriots after being released by the Oakland Raiders. "We take these allegations very seriously," the Patriots said in a statement last night. "Under no circumstances does this organization condone sexual violence or assault." According to the statement, the NFL is planning its own investigation into the accusations against Brown. Taylor's lawyer said she would cooperate with the league's investigation.