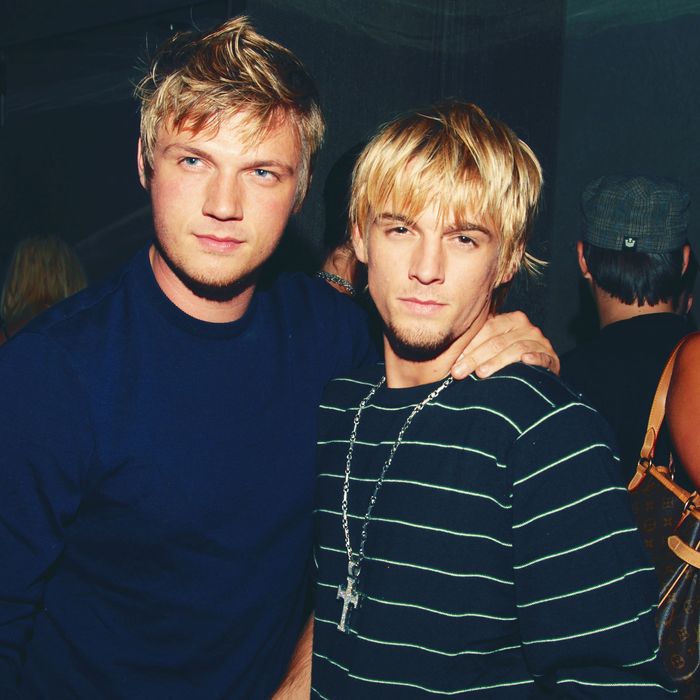 Photo: Mark Sullivan/WireImage
The feud between Backstreet Boys member Nick Carter and his younger brother, Aaron Carter, took a dark turn yesterday, when Nick and his sister, Angel, Aaron's twin, filed a restraining order against Aaron on Tuesday.
In a tweet, Nick Carter, 39, wrote that the order was obtained "in light of a recent confession that he harbors thoughts and intentions of killing my pregnant wife and unborn child."
Aaron Carter, 31, publicly responded, tweeting, "I was just served lol." He added, "Take care. @nickcarter we're done for life" and denied "wish[ing] to harm anyone" before launching into a tweetstorm about how Nick was retaliating against him for "livestreaming" with Melissa Schuman, a former member of the girl band Dream who accused Nick of rape in 2017. Aaron also claimed that multiple women have accused his brother of sexual misconduct.
The restraining order and subsequent fallout is the latest episode in a long history of public fighting, and both brothers have struggled with substance abuse.
Aaron Carter reportedly threatened his ex-girlfriend and Nick's wife while FaceTiming his twin sister
TMZ claims to have obtained a copy of the restraining order request filed by Nick Carter against Aaron, which contains shocking allegations. According to the documents, TMZ reports, Aaron was talking via FaceTime with his twin sister, Angel, on August 7 when he told her he "was diagnosed with schizophrenia and bipolar 2 years ago." When Angel asked Aaron if he ever heard voices, he allegedly said, "I have thoughts of killing babies," and "I think about killing Lauren Kitt," Nick's wife, who is pregnant with their second child.
TMZ also reports that Aaron's ex-girlfriend, Lina, was present and when she asked Angel, "How do you think I feel with him sleeping with a sword next to him?" Aaron become upset and said, "Shut up Lina, you are next on my list." Police supposedly visited the home the day after the FaceTime conversation for a welfare check after being alerted by a family member. And TMZ writes that Nick Carter claims Aaron has six firearms at home in the restraining-order filing.
In a "TMZ Live" video on September 16, Aaron himself told the hosts that police were aware of several loaded guns at his home (and that he was currently studying for the bar). He said they had visited him in an attempt to enforce a 5150, referring to the California law that would place him on involuntary psychiatric commitment for people who are a danger to themselves or others. He repeated the claim via Twitter on Tuesday night.
Carter told TMZ he was not bipolar, but in an appearance on the show The Doctors earlier in September, he said that he suffers "from multiple personality disorder, schizophrenia, acute anxiety. I'm manic depressive. I'm prescribed to Xanax, Seroquel, gabapentin, hydroxyzine, trazodone, omeprazole."
Nick and Aaron Carter have been at odds for years
Soon after tweeting that he was "done" with his brother Nick, Aaron Carter shared a clip of the brothers fighting from the Carter family's E! reality show, House of Carters, which aired for one season in 2006.
Nick and Aaron have been publicly at odds for years, and they both struggled with fame — at the time of the show, Nick was still recording with the Backstreet Boys, which had made him world famous, while Aaron had enjoyed a successful pop career when he was still a child with songs like "Aaron's Party."
In 2012, when their sister Leslie Carter, also a musician, died of a drug overdose at age 25, Aaron Carter publicly criticized Nick for not attending her funeral, a critique he repeated on Twitter on Tuesday. In 2013, Nick Carter told Dr. Phil that his family members "were blaming [him] for the death."
Since then, both brothers have continued to struggle with substance abuse and financial problems, and have both been arrested. Last week, as Nick Carter continued touring with the reformed Backstreet Boys, Aaron tweeted, "I've removed him from my life because he is a trigger."
Nick Carter was accused of rape in 2017
The allegations against Nick Carter by Melissa Schuman were first made public in 2017, when Schuman wrote an essay inspired by the #MeToo movement claiming that Carter raped her in 2002.
She said when she was 18 and Carter was 20, she had been hanging out with a group at Carter's house in Santa Monica when he led her into a bathroom, forced oral sex on her and forced her to perform oral sex on him, then raped her in a bedroom nearby. She said she didn't report at the time because she "didn't have the money, the clout, or access to an attorney who was powerful enough to stand up against my abuser's legal counsel." Nick Carter denied the allegations, and the LAPD declined to press charges, citing the fact that the statute of limitations had expired.
Aaron Carter says Nick is retaliating against him for being in contact with his accuser
As news of Nick's restraining order against Aaron made the rounds on September 17, Aaron began tweeting about the #MeToo movement and publicly engaging with Schuman, saying that Nick was retaliating "because I live streamed with one of his accusers."
It's unknown exactly where this "live stream" occurred, or what he or Schuman said. In another tweet, Aaron tagged alleged Weinstein victim and #MeToo activist Rose McGowan as well as Schuman, who confirmed they were in contact. She has also been tweeting about Nick Carter from her account.
Aaron Carter claims other women have accused Nick Carter of misconduct
In his tweetstorm, Aaron Carter alleged that Nick has been "using the court system to shake me down" and that it "worked on some girls but won't work on me." He tweeted that someone should "Maybe do a r Kelly type documentary" on his brother.
He also referred to a Radar Online story from 2018 about two additional women who have accused Carter of misconduct, including an underage girl who came forward in 2003 to say that Carter, then 23, had had sex with her. In that case, Aaron Carter told detectives he was present while the accuser stayed on the Carter property. The Assistant District Attorney reportedly didn't press charges "due to the delay in the victim reporting the incident, the victim portraying that she was 18 and members of the Carter family believing that she was eighteen years of age."
In response to someone accusing him of making up his claims, Aaron wrote that if "you're calling me a liar then you're calling all these girls liars." He continued, "They came to me because no one would listen to them and I was there for two of the times it happened and that's why they reached out to me sometime soon they'll be depositions."
Reps for Nick and Aaron Carter haven't responded to requests for comment on the latest news.
This article has been updated with new information.