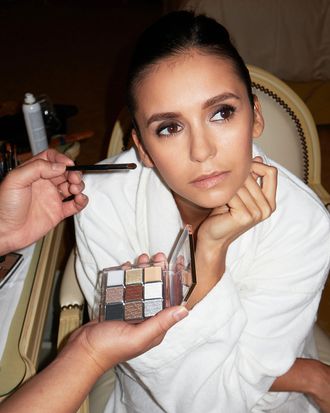 Nina Dobrev has come a long way. Just like one of my top-five favorite famous Canadians, she first got her start on a little teen television series called Degrassi: The Next Generation. Now, she's filming films, celebrating her ten-year anniversary of being a wildly popular vampire, and sitting front row at Dior's spring 2020 show in Paris for Paris Fashion Week.
Before makeup artist Daniel Martin created Dobrev's very good smoky eye for the occasion (compliments of the Dior's new Backstage Custom Eye Palette with a new nude Dior Ultra Care lip to match), the Cut quickly caught up with the actress to talk serial-killer face masks, vampire reunions, and croissants.
What's your nighttime beauty routine like?
Oh, you have no idea. I think the older I get, the more important it becomes. When I was younger, I'd always just fall asleep in my makeup and it wouldn't really have an effect but nowadays, because of some maturity, knowledge, and growth, it's changed.
I take off my makeup with a makeup wipe, just something from CVS, and then it's all about cleansing, a toner, a great moisturizer, a great eye cream, and all of the serums. I usually use Dr. Sturm under-eye cream at night, and I use Dior Prestige La Crème for my moisturizer. I get so dry in the middle of the night that I also have to use lip balm, and I also use Dior's lip balm. I also use a Déesse mask every couple of days before I put on my moisturizer.
What time do you go to bed?
Just like my weight, the timing fluctuates [laughs]. I try to go to bed at ten and on good nights, I am able to. For the most part, I crawl into bed at ten and watch a TV show or a movie and fall asleep by 11:30 p.m. or midnight. Not bad, but it could be better.
How do you like to deal with jet lag?
It's the worst. But then again, it's not. I travel so much and I'm in so many different time zones, but for the most part, I'm pretty lucky because I sleep well on planes. Other than that, I always have a sleep mask, because if there's even a crack of light, I'll be up. I also sleep with a sound machine. Sound machines are my secret weapon because they drown out any noise and keep you in this even-keeled environment that's peaceful and chill. Between those two and chamomile tea, those are my tricks. I don't count sheep or anything.
What's the most nervous you've ever been?
There have been two scenarios. One was when I filmed the pilot episode of Fam, the sitcom I was on last year. I was in front of a live audience when I was used to being on set filming and doing multiple takes, with the added pressure of people watching me live. The first time we did that was really scary, but it got easier with time.
The other time was about a year and a half ago — the movie is coming out next month — but I was shooting this film where I had to speak French. I speak it with my family at home but it's kind of a broken French and it's been a while since I've lived here in France. I was very, very, very nervous because of the pressure of nailing the accent and pronouncing all the words correctly. My family is going to be watching the film and I wanted to live up to their expectations and made sure I did it justice. But at least I didn't have to do it live!
What's your best beauty tip and where did you learn it?
I learn a lot of random tips from makeup artists. One of my favorites is one I learned from Daniel Martin, who is actually doing my makeup for the show, which is serendipitous. You know when you want that eyeliner look? Not really thick eyeliner, but you want it to be perfectly on the edge of your lash line; super thin, real close in?
He taught me that if you draw it in — like messy, it doesn't have to be perfect — make it a thick line from top to bottom. Then, take a wet Q-tip and erase all of it up to the very edge of the lash line and do your makeup around that, your concealer, everything. It makes the perfect, little, thin black line. Instead of trying to make it perfect, just make it messy and delete. I've been crushing it that way in the last year or so.
Okay, rapid-fire round …
Matte lips or glossy lips?
Matte lips.
Cat eye or smoky eye?
Cat eye.
What's the last song you listened to?
"ABC" by the Jackson Five. It was on the radio in the car today while I was driving around.
What's the last thing you binge-watched?
Euphoria. Oh my God. Pure gold. I want to rewatch it again, it was so good. Zendaya crushes everything. The girl can do no wrong.
What's on your phone's lock screen?
My dog.
What's the last text you sent?
A photo from Ibiza this past weekend with a few of my Vampire Diaries cast members. I took it on my phone, so I just sent it to them via group text.
What's your favorite snack?
Croissants. Hands down, croissants. Only in Paris. I've had three today. Probably not going to fit into my outfit for the show but, you know, when in Rome/when in Paris, you have to do it. They're French, they'll understand.
If you buy something through our links, New York may earn an affiliate commission.