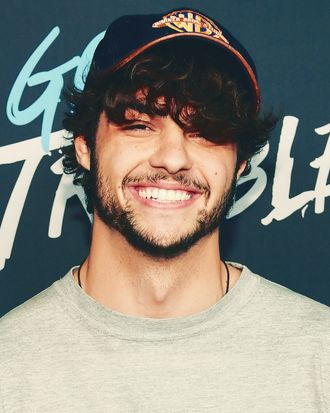 Nooo.
Photo: Matt Winkelmeyer/Getty Images
Bad things happen to good people. Bad things also happen to bad people. Average people. Boring people. Cool people. Even celebrities. What I'm saying is bad things happen to everyone, and this week, one bad thing in particular happened to all of us.
Noah Centineo bleached his beard.
Yes, the To All the Boys I've Loved Before star dyed his beard a light, fleshy blond, so from afar you're like, Is that a beard, or is his skin really dehydrated?
"I didn't bleach my beard, that would be ridiculous. Why would I do that?" Centineo, 23, said in his Instagram Story over the weekend, laughing and sporting a decidedly bleached beard and tagging colorist Shah Karegar.
He would do it, presumably, either to prepare for an upcoming movie role (in the as-yet-unannounced Spencer Pratt biopic, perhaps) or to punish modern society for its multitude of sins.
Do you repent yet?
To be clear, even with a blond beard, Centineo is better looking than any person I've ever seen in real life. But it is still a harsh new reality, one that few are equipped to deal with.
On Twitter, one fan shared Centineo's blond-bearded Instagram Story and wrote, "noah centineo update he just bleached his beard. am actually crying. I am actually considering to stop my fan account." The person's display name is now "not noah centineo updates."
Well, at least we'll always have Joe Keery's luscious locks — one second, I'm getting word that … [touches earpiece] he did what?
Goddamn it.