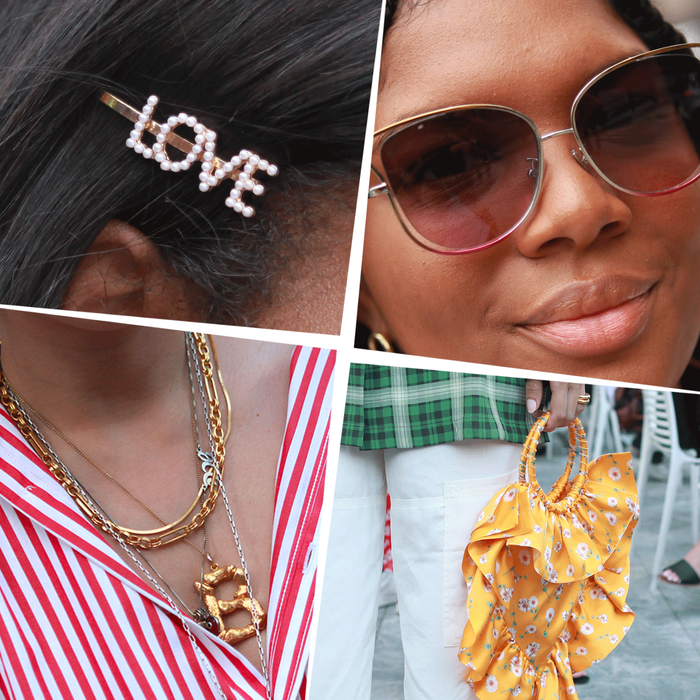 As usual, the global fashion horde has served up a hurricane of street style this fashion month. So there's no shame in admitting if it's all blurring together by now. To help make sense of some of the details you may have missed while your eyes crossed through yet another runway slideshow, we rounded up some of our favorite accessory moments outside of the New York Fashion Week shows. A mix of new and enduring trends, plus pure creative styling, these are outfit-making additions you can actually adopt yourself (unlike the head-to-toe designer look your favorite influencer wore). Scroll on for ten accessory ideas to try immediately, from hair flair, to the new "it" bag shape, to on-trend Coach sunglasses by way of Sunglass Hut.
A Touch of Pink

Pink has been everywhere this year, starting with the red carpet back in February. NYFW proved it's a trend for all seasons, as seen on these Coach sunglasses worn by the Cut fashion team's Devine Blacksher. In lieu of wearing a fuchsia gown, incorporate the color in a more subtle, everyday way with these shades' rosy gradient and splash of pink around the rim.
Cowboy Boots
The neo-Western theme has been rising steadily in both pop culture and fashion since last year, so now is the time to live out your most stylish ranch-based fantasies, white cowboy boots included.
Round Bags

Sometimes the simplest design ideas feel the freshest. Such is the case with the best new handbag shapes, which include circles, spheres, and half-moons. If a full-on globe feels like too much, then try a more 2-D version.
Patterned Neck Scarves

Remember when you couldn't go to a social event without feeling like you'd joined a gang of handkerchief-wearing bandits? Now that we've had a few years to get over our bandana hangovers, it's safe to re-explore the world of neck wraps, back now in the form of more sophisticated silk scarves.
Not-Precious Pearls
The matriarch of your family might be thrilled to hear that pearls are back in a big way, but that doesn't mean you should be wearing them like she would. Skip the classic rope necklace in favor of freshwater or traditional pearls offset with gold and integrated into modern-looking pieces.
Hair Flair

We've written about the barrette takeover ad nauseum this year, yet it's still showing no signs of fizzling out soon. Get inspired by these well-executed examples; then find your own hair-clip vibe.
Flared Heels

If you're a sucker for an interesting heel (looking at you, owners of ball heels, lighter heels, and whatever these are), then keep an eye out for this cool-yet-wearable trumpet shape that feels both current and retro simultaneously.
Touchable Fabric Bags
Hard, tiny little boxes were super-popular for a minute, but another subset of bags has gone in the opposite direction: Super-soft, even delicate fabrics like satin and velvet make these purses as playful and huggable as pillows.
Heart Earrings

This trend pretty much speaks for itself, but know that when it comes to wearing your heart on your earlobes, bigger — and more fun — is better.
Linking Up

Hardware is an always-powerful accessorizing element. How stylish women are wearing it now: a bag strap that beckons for a closer look, a decorative sunglasses chain, and an irreverent tangle of mixed-metal necklaces.
All photos by Travis Matthews for the Cut.
This is paid content produced for an advertiser by New York Stories. The editorial staff of The Cut did not play a role in its creation.