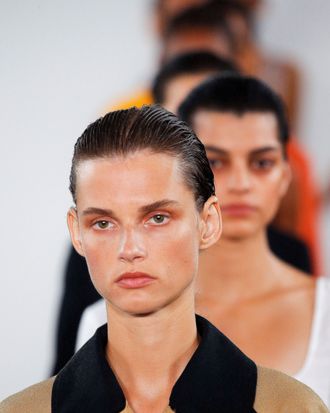 Photo: Victor VIRGILE/Gamma-Rapho via Getty Images
Backstage at the spring 2020 Gabriela Hearst show, it was noticeably quiet. Models and makeup artists chatted, munching on fancy crudités from catering. But the soundtrack lacked the usual underlying hum of blow-dryers, because hot tools and their requisite electricity were banned backstage.
Like many other designers this season, Hearst was focused on the environment. But she took it a few steps further, endeavoring to create a completely carbon-neutral runway show. With the environmentalist group EcoAct, she worked out the necessary carbon-emission offsets from putting on a show, and she asked the runway production company she worked with, Bureau Betak, to cut down on power usage and waste. Taking it even further, hairstylist James Pecis and his team operated in a blackout-like environment.
Rather than deciding they weren't going to create any "hair look" at all, Pecis and his team worked within the limits. "I like a challenge," Pecis told Vogue.com. They created a slicked-back "shellac rope braid" on each model, (using Oribe's Gel Sérum), which they doubled over and tied with a thin band. A sort of fancy braided-cruller look, it was completely ecofriendly and cool.
Hair dryers emit around 57 pounds of carbon dioxide a year, according to one study. Just consider the carbon footprint of beachy waves.