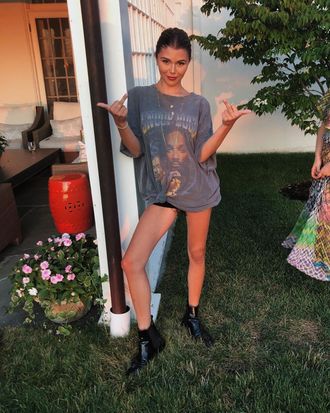 Photo: @oliviajade/Instagram
You go to school, get good enough grades to go to college, where you get good grades enough grades go to law school, then you get hired at a law firm, where you work long hours. Years into your career you beg — you "plead," according to Us Weekly — with your teen beauty vlogger and non-rower client to please, please, not post anything on social media, "because prosecutors are going to question her about it and show everything to the jury." And then she shares a picture on Instagram, where she has 1.4 million followers, of herself in a fancy garden, wearing an oversize Snoop Dogg T-shirt, and flipping off the camera and "@everyothermediaoutlet". This is what all your years of education and work have come to. This is your life as Olivia Jade Giannulli's lawyer.
Per Us Weekly, Giannulli's finger-based message to media outlets last month went against her lawyer's specific request that she not post anything to social media, to avoid it being used in the court case against her mom, Lori Loughlin. Loughlin pleaded not guilty in April to charges of conspiracy to commit fraud and conspiracy to commit money laundering for allegedly paying $500,000 to get Olivia and her little sister into the University of Southern California.
Olivia has since given the middle finger not only to media outlets and her lawyers, but also USC — the vlogger will reportedly not return to college this fall, and will instead be a full-time influencer.