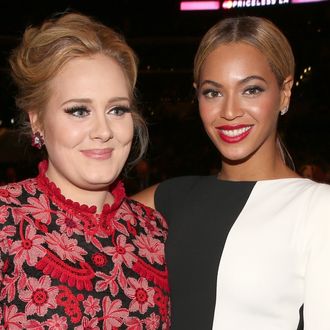 Photo: Christopher Polk/Getty Images for NARAS
A different band might have spread those big, heavy-hitting features out over an entire album, but not OneRepublic. According to Entertainment Weekly, front man Ryan Tedder told New York's Z100 this weekend that just one of the band's songs on their upcoming album, Human, features three huge names. "We have one song featuring Beyoncé and Adele with a Chris Martin piano solo on the bridge," he revealed.
Obviously, the Chris Martin contribution will be instrumental (and, based on what we know about Coldplay, melancholy in an affecting pop way), but is there any chance the combination of Beyoncé, Adele, and OneRepublic on one single will prove to be too much? Might it overwhelm the senses, like a lobster stuffed with tacos baked inside a calzone, or mint-chocolate-chip ice cream mixed with chocolate peanut butter? Or, is that what we should be hoping for? Tedder himself helped produce and co-write "Halo," "XO," and "I Was Here" for Beyoncé, in addition to Adele's "Remedy," "Rumor Has It," and "Turning Tables," so maybe he just blended all of those together, knowing we are finally ready for whatever came out the other side.
Update, September 30: Tedder has clarified via his Instagram story that he was "utilizing 'sarcasm,' 'kidding,' and a 'joke' simultaneously" when answering that interview question, and that no such mega-collab between Adele and Beyoncé currently exists (ahem, at least not as far as he's concerned) because, really, in what world? Carry on. Nothing to see here.