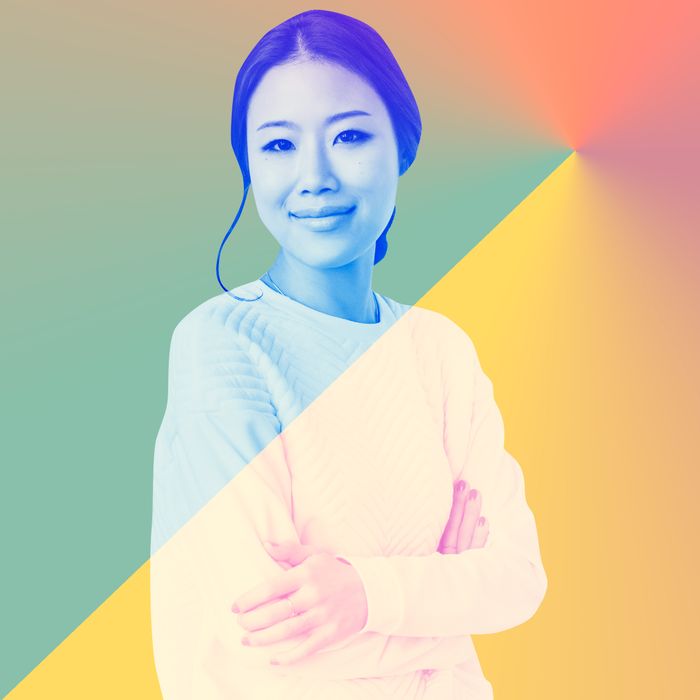 Photo: Courtesy of Peach & Lily
When the Cut talks to beauty-world insiders for Beauty of It All, we always ask them, "If you could have one ridiculous indulgence, what would it be?"
Not that you asked, but mine would be a daily treatment from Alicia Yoon, the founder of Peach & Lily. A facial with Yoon is an intense yet sublime experience. And to think, she almost became a diving coach. Before that, she wanted to be a platform diving Olympian.
Born in Korea, Yoon moved to the States when she was a year old. Growing up in New York, she started diving competitively at 9. When her parents informed her that they were moving back to Korea, part of their pitch included an athletic enticement. In Seoul, she could train more intensely.
"Diving isn't an after-school activity in Korea. It's an all-or-nothing sport," explains Yoon. "Diving became my whole life. All my hopes and dreams were based on making the Olympic team."
Unfortunately, repeated injuries shattered her dreams. At 17 she gave up the sport. Life without diving was an adjustment, but it allowed her time to explore other outlets, so at the invitation of a friend, she signed up for an after-school beauty course. A longtime sufferer of eczema, Yoon found answers in the aesthetics department.
"Once I started learning the science behind skin's structure and how it worked, I felt like I had stepped into The Matrix," she remembers. "We studied biology in high school, but not to this degree! And back then there was no Google. I suddenly had so much more control over my skin."
Having learned how to give facials, she started treating her friends, and continued through college and grad school (Columbia and Harvard, respectively.)
"I entered Harvard Business School during the financial crisis, so they had a really big focus on entrepreneurship," explains Yoon. "My grandfather had been a serial entrepreneur. His life always seemed so adventurous and exciting, so I thought, 'Okay. I'll be an entrepreneur.'"
Her first gig was importing Korean fashion, but her heart wasn't in it. Skin care, on the other hand, had always been a passion. She decided to turn her hobby into a business and import Korean beauty instead.
"I couldn't believe that, in such a globalized world, you couldn't find any Korean beauty in the U.S. beyond what was sold in K Town," she says. "With such advanced technologies and formulas, I had to bring it here."
She launched Peach and Lily in 2012, then launched her own line in 2016, starting with sheet masks. A more complete collection followed last year, but Yoon is constantly presenting formulaic challenges for her labs to meet.
"It's such a privilege to be taken seriously by these brilliant chemists," says Yoon. "It's my own Willy Wonka dream come true."
Yoon spoke with the Cut about the best kind of serum, the worst kind of meetings, and more.
What's your definition of beauty? 
Love — in all forms. Self-love, loving others, loving animals, loving your career. Any expression of love is true beauty.
What do you think when you hear the term "clean beauty"?
It's an unregulated term. Sometimes "clean beauty" products aren't that clean, so my first reaction is to immediately flip over the box and pore over the ingredients.
Where, if anywhere, in your beauty (or life) routine are you not quite that "clean," "green," or "sustainable"? Are there old-school products or elements that you just can't quit?
I have a sweet tooth, it's so hard to quit chocolate baked goods. Also, I have fine, easily tangled hair, so sometimes a not-clean conditioner is the only thing that does the trick.
Please fill in the blank as it pertains to something connected to your beauty, self, routine, product or otherwise: I think about _______ a lot. Keeping inflammation away.
What is the opposite of "beautiful"?
Selfishness and the inability to consider others, which is a very different thing than self-care and self-love.
What is your own personal definition of glee?
Good food, good wine with loved ones curled up together on comfy couches while sheet-masking and catching up. I'm literally smiling right now as I think about this.
Bath or shower?
One-hundred percent bath, with Susanne Kaufmann St. John's Wart Bath — it's really hydrating and soothing, which is great for my eczema.
Body lotion of choice:
Illi Total Anti-aging Body Lotion
Facial cleanser of choice:
I double cleanse, always. The Shangpree S-Energy Cleansing Gel followed by the Shangpree S-Energy Facial Mousse Cleanser. This two step process keeps my skin clean down to the pores, but never stripped dry.
Scent of choice:
Dolce & Gabbana The One.
Toothpaste and toothbrush of choice:
Tom's of Maine. Charcoal toothbrushes from Korean drugstores.
Favorite CDB product:
The Not Pot butter by Pearl Butter. 
What, if anything, is usually on your lips?
The Peach & Lily Kbeauty Rescue Balm. Lips stay super soft and plumped up with hydration. It's a balm for everywhere and anywhere, so sometimes it's on my lips, neck, and cheeks where it gets especially dry.
What shade, if any, is usually on your toes and/or hands?
Toes: Chanel Holiday or Rouge Noir. Nails: Essie Ballet Slippers, Dior Incognito or a stark white.
What beauty look do you struggle with achieving?
A heavily smoky eye. Somehow, this look always makes my eyes look a little puffy!
What beauty look do you just not get?
Halo brows.
What do you splurge on?
Great massages.
Favorite location to travel to:
The lush and serene countrysides outside of Seoul.
Daily carry-all:
Celine Bucket Bag.
Work shoe of choice: See by Chloe Espadrilles.
Casual shoe of choice:
Very white, comfortable leather slip-on sneakers I get from a boutique in Korea.
What fashion look do you struggle with achieving?
I'm petite so anything too oversized, I drown in.
Current favorite fashion designer:
Roland Mouret, Protagonist, Steve J & Yoni P.
Favorite piece of furniture in your home:
A gray-blue armchair I have from Pier 1 Imports because it's super comfortable, but it was also one of the first pieces of furniture I got for myself and it's been to every apartment with me, so it just holds a lot of sentimental value for me.
Top item currently at the top of your fashion wish list:
This oversized Balenciaga bag that looks like it would hold everything. I saw someone carrying it the other day, but I can't find any retailer that has this specific bag.
What is your daily uniform?
I don't really have one. I tend to either be pretty monochromatic and tailored, or I'll do louder colors and textures, depending on what's going on that day and how I'm feeling.
Favorite day-off activity:
Reading.
Last great book you read?
Radical Candor.
Best-selling book that you just couldn't get into?
The Lying Game.
What was the most recent interesting conversation you had? Topic? And with whom?
One of my girl friends is developing a RNA platform technology for immuno-oncology and gene therapy applications, among many other health problems. The research is fascinating. I was truly captivated, though, by her tenacity to make incredible headway and win prestigious awards in a male-dominated industry. Love listening to stories of women just crushing it.
What tests your patience?
Unnecessary meetings with no agenda.
Jetlag cure:
Blue light therapy.
Favorite smell:
Mountain air.
Least favorite smell:
Heavy perfumes.
What do you think Pantone's color of 2019 should be?
I think it should be a beautiful, light, airy yellow because these are times where we can especially use some cheerful, happy vibes.
Most used item in your kitchen:
Our pressure cooker that my husband, who's a phenomenal cook, uses.
Nickname you had as a child:
Smiley.
What do you wish you had invented?
Vaccines.
What would you still like to invent?
Cures for all cancers.
Describe your most starstruck moment:
Being a fellow panelist at the Be Summit Conference, organized by Nastia Luikin, alongside world champions and Olympians like Jordyn Wieber, Shannon Miller, Nancy Kerrigan, and Laurie Hernandez definitely had me starstruck.
Name a trait or talent you possess that few know about you:
I am an extremely slow eater.
What are you working on mastering?
Stand-up paddle boarding.
What is your Achilles heel?
Books. Once I get going, it's hard to put them down.
Comfort food:
Mashed potatoes.
What food would you never eat?
Recently, dairy. And ever since I began avoiding it, I feel more energized.
What product in your company's domain is misunderstood and should be a best seller?
Miwaji Hyalu Serum Veil. It's this incredible blend of hyaluronic acid of different molecular sizes. One layer works as a serum and a few layers work as a thin mask where the hyaluronic acid forms a veil-like effect on skin. You apply a few layers before bed, and when you wake up, skin is seriously super plumped up with hydration and completely calmed down. A celebrity dermatologist in Korea created this. It's a super buzzy brand among beauty insiders in Korea and has saved my skin many times.
Yes, this is cruel, but what is your favorite product in your domain? (understanding that the answer can change)?
Peach & Lily Glass Skin Refining Serum. It just creates healthier skin for me, and keeps me free of fine lines, wrinkles, dark spots, pores, everything. It just works.
What do you foresee as the top beauty trends in 2019?
Clean beauty products that can yield big results.
If you won the Power Ball tomorrow, what are the first five things you would do? (after, of course, donating the majority of it to your top charities…)
Take my parents on a really lavish month-long vacation, build out a handful of key spa locations for Peach & Lily, get weekly deep-tissue massages at the Baccarat Hotel there's this one massage therapist there who is a magician!), get a private jet, buy a sprawling loft space in Nolita, then build the lushest greenhouse on top of it.
If you buy something through our links, New York may earn an affiliate commission.