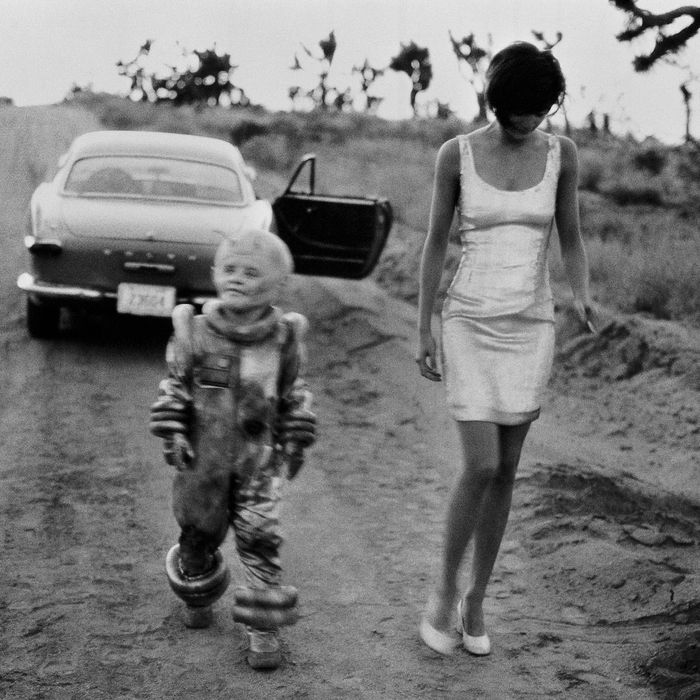 Lee Carrington & Helena Christensen, 
El Mirage, California, 1990
Photo: © Peter Lindbergh (Courtesy Peter Lindbergh, Paris)
My favorite Martian in fashion — no offense to the rest of you — appeared in the pages of Italian Vogue in March of 1990. Traveling from somewhere beyond, he touched down in the desert outside L.A., where he met, and promptly fell for, a young Helena Christensen. Who could blame him?
That story was the work of Peter Lindbergh, one of the greats of 20th-century fashion photography, who died Wednesday at the age of 74. Lindbergh is justly regarded as a master for several reasons — the critic Vince Aletti called him one of the best portraitists in fashion — but the reason that sticks with me is the cinematography he brought into fashion photography, his insistence on telling a story. The Martian shoot is a landmark in fashion history; it's credited with being the first narrative shoot. But because he cared about the story, he cared about his characters too. The clothes, important as they were, came second. "If you take out the fashion and the artifice, then you can see the real person," he once said. His stories came "never from the clothes, as much as I deeply respect the designers," he told Artforum in 2016. The Martian idea, he said, came from a Skywatcher magazine found in a waiting room at the American hospital in Paris.
I spoke to Lindbergh only once that I can recall, by phone at his Paris studio late, late into the night his time. Franca Sozzani, the pathbreaking editor of Italian Vogue, had died and I was writing her obituary for the New York Times. Sozzani had been Lindbergh's champion, first at Lei, then at Vogue, sticking up for him even when he made the unforgivable-to-Condé-Nast desertion to Bazaar for a few years, and hiring him back afterward. He talked about Sozzani reverentially — he joked, I think, that he was in love with her, and she used to call herself "the longest wife in your life." It's not hard to see why he would have been so taken with her. Like Lindbergh, Sozzani put the photos, and the photographers, first. She trusted the ones she championed. She allowed them their Martians.
When we spoke, a few days before Christmas in 2016, our conversation wended back to that story. He'd done filmic shoots since, including his famous "Angel" shoot with Amber Valletta — an homage of sorts to Wings of Desire — or even his portrait of who we now call the Supermodels (Naomi, Christy, Linda, Cindy, and Tatjana) for British Vogue, which distinguished him as the first person to shoot them all together. (They weren't called "Supermodels" then, but through Lindbergh's lens they looked so strong, so self-possessed, that the backstory seemed to suggest itself: they were heroic, therefore Super.) But the Martian was special. Christensen was just beginning; Lindbergh remembered her coming to his house in Paris with her mom and thinking she had a wonderful face, "totally new." But the Martian had to have just as much feeling and pathos. "They never had money, no?" Lindbergh said of Italian Vogue; their production budgets were small. "I wanted to have this Martian really, really perfect with a glass bowl over his head, but under the head I didn't want to have a mask. I wanted to have expression."
Expression took masks, in the end — expensive ones. The alien heads Lindbergh wanted, he recalled, were 8,500 deutsche marks (around $15,000 at the time). "She said, 'Are you out of your fucking mind?'"
As he recalled, he footed the bill. It was worth it. The pictures became among his most famous, and among Sozzani's favorite. She requested a big print of it, which Lindbergh gave her.
There's something about the Martian that stays with me, the way it finds the gentle comedy in glamour, rather than canceling it out. Too often, ugly is played for funny. Lindbergh was capable of great beauty — those portraits, his women — but those aren't the photos of his that I remember best. I remember Naomi in the convertible with the Dalmatians, the female Beatles, the poor little Martian: They're generous and warm, when so much fashion photography that followed was studiously cold. No less than Rei Kawakubo, the creative genius of Comme des Garçons, who had a long collaboration with him, once said "What is strong about Peter's work is the humanity inherent in his photographs." Even Martians weren't immune.