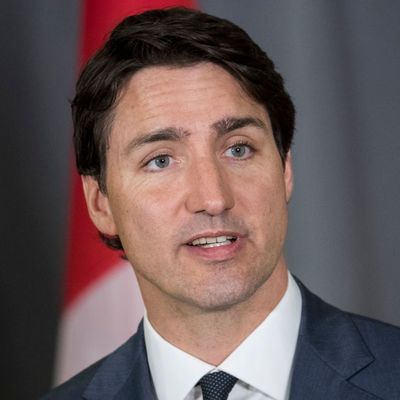 Photo: Drew Angerer/Getty Images
According to a photograph newly released by Time, Canadian prime minister Justin Trudeau wore brownface makeup to a costume party at the private day school where he was teaching in 2001. Similar to the blackface controversy surrounding Virginia governor Ralph Northam, the photo was published in the yearbook of West Point Grey Academy for 2000 to 2001 and was taken at an "Arabian Nights" gala.
On Wednesday, a spokesperson for the Liberal Party, of which Trudeau is the leader, confirmed that Trudeau is in the photo: "He attended with friends and colleagues dressed as a character from Aladdin." But as Time notes, "of the individuals in six photographs from the event published in the yearbook, Trudeau appears to be the only one who darkened his skin."
Last week, Trudeau began his reelection campaign already battling a scandal over whether he had pressured his former attorney general to drop corruption charges against a large engineering company.
On board his campaign plane on Wednesday night, Trudeau apologized:
In 2001, when I was a teacher in Vancouver, I attended a gala. The theme was Arabian Nights. I dressed up in an Aladdin costume and put makeup on. I shouldn't have done that. I should have known better, but I didn't and I'm really sorry.




I take responsibility for my decision to do that. I shouldn't have done it. I should have known better. It was something that I didn't think was racist at the time, but now I recognize it was something racist to do and I am deeply sorry.
When asked if there were any similar instances in his past, Trudeau mentioned a performance in high school in which he wore "makeup" to sing "Day-O," the Jamaican folk song made famous by civil rights activist Harry Belafonte. "I deeply regret that I did that," he said. Trudeau added that he has "always been more enthusiastic about costumes than sometimes is appropriate," referring to an incident earlier this year in which he visited India and was criticized for wearing a traditional gown. It was described by the Indian magazine Outlook as "too Indian even for an Indian."
The Sikh MP Jagmeet Singh, who is the leader of Canada's New Democratic Party, called the costume "insulting" and asked reporters: "Who is the real Mr. Trudeau? Is it the one behind closed doors, the one when the cameras are turned off that no one sees? Is that the real Mr. Trudeau? Because more and more, it seems like it is." Meanwhile, Andrew Scheer, the leader of the Conservative Party and Trudeau's challenger in the October election, said that the picture showed "a complete lack of judgement and integrity, and someone who is not fit to govern this country."
On Thursday morning, Global News reported a new incident of Trudeau wearing blackface. Though it's not obvious in the video that the PM is the man painted black and sticking out his tongue, Global News says the Liberal Party has confirmed it's Trudeau. It's not clear when or where the video was taken.
This post has been updated.