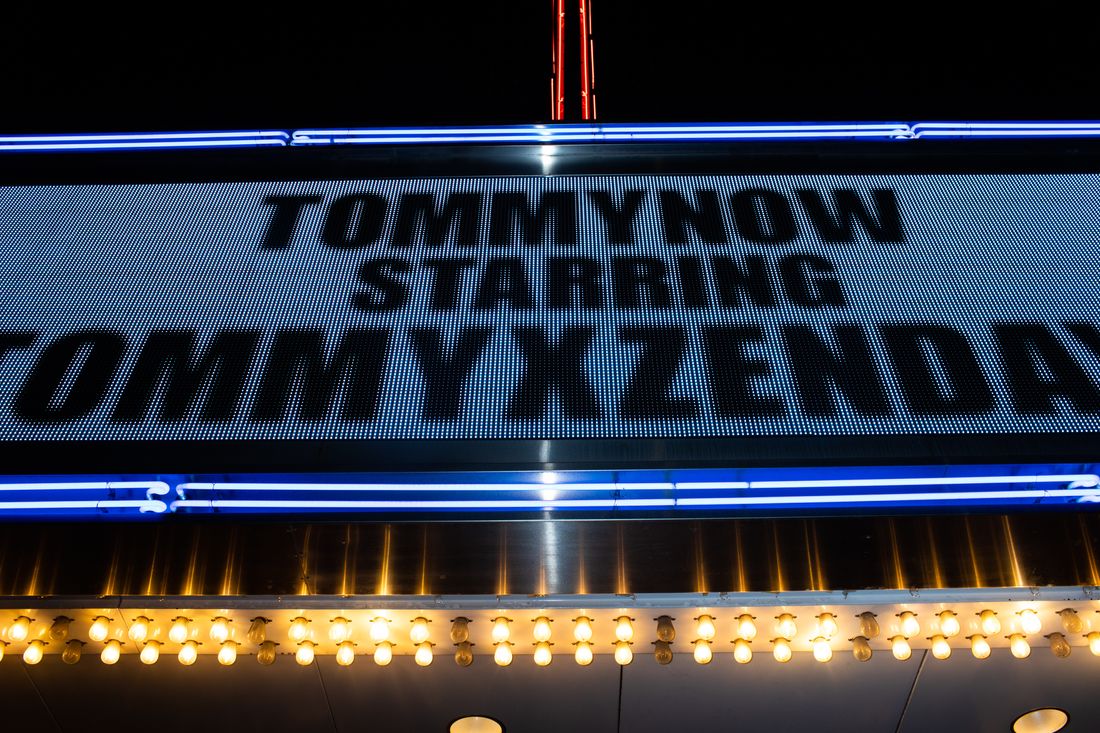 When a live band starts playing soul standards, it's hard not to dance, even if you're Gigi Hadid.
Last night, Zendaya and Tommy Hilfiger held their final show together at the Apollo Theater, the Harlem landmark that's been the scene of countless groundbreaking musical performances. Technically, the show wasn't inside the theater; instead, guests — including Hadid, her love interest Tyler Cameron, and three Euphoria cast members — gathered outside at what looked like a movie set re-creating a street corner in Harlem in the '70s. Onstage was a full band and at least a dozen singers, some on faux stoops and some in vintage Cadillacs. Things kicked off with the sounds of Bobby Womack's "Across 110th Street," and the band had everyone from Jameela Jamil in the front row to the guests in the nosebleeds dancing in their seats. Which is impressive, considering it's hard to simultaneously record the runway show in front of you and dance at the same time.
The clothes mirrored the playlist. Model after model strutted past, looking like the cast of a '70s period piece. Leather bell-bottoms, snakeskin vests, and giant gray, leopard-print coats paired well with the voluminous hairstyles and oversize clear sunglasses. Toward the end, things got more modern, with black tulle dresses and a deep-burgundy velvet suit decorated with rhinestones. More is more: more tubas, more hair, more leather! The casting was great, too — Ashley Graham, Halima Aden, and Winnie Harlow all walked. Others grooved down the runway in platforms.
While it was clearly a blowout, this TommyXZendaya show was similar in scale to last season, which channeled Studio 54 and ended with Grace Jones in a blazer and a leotard. And while the fashion set would be happy to go to a TommyXZendaya party every season, all good things must come to an end. Just before the show, Tommy Hilfiger announced that this would be the last collection with Zendaya and stylist Law Roach, whom he's partnered with for two seasons. "We didn't want to hold anything back tonight," Hilfiger said in the statement. The three took their bow together, to the tune of "Move on Up" by Curtis Mayfield.
See it all — from backstage to the front row — below.