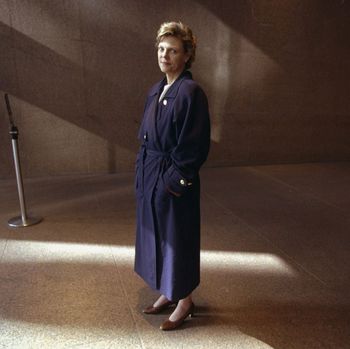 Photo: New York Daily News Archive/NY Daily News via Getty Images
Cokie Roberts, the pioneering journalist and political commentator, died on Tuesday from complications from breast cancer. She was 75.
Roberts, who was the winner of three Emmy awards, worked at ABC News for three decades, including as a co-anchor of ABC's This Week with Sam Donaldson from 1996 to 2002. She has been inducted into the Broadcasting and Cable Hall of Fame and named a Living Legend by the Library of Congress, as well as one of the 50 greatest women in the history of broadcasting by American Women in Radio and Television. She was also the best-selling author of eight books, many of which focused on the role of women in American history, including, most recently, Capital Dames: The Civil War and the Women of Washington, 1848-1868.
Before joining ABC in 1988, Roberts was a congressional correspondent for NPR for more than ten years. An obituary published by NPR notes that Roberts was one of public radio's "most recognizable voices," and "is considered one of a handful of pioneering female journalists — along with Nina Totenberg, Linda Wetheimer and Susan Stamberg — who helped shape the public broadcaster's sound and culture at a time when few women held prominent roles in journalism."
James Goldston, the president of ABC News, said that Roberts was "a true pioneer for women in journalism … well-regarded for her insightful analysis of politics and policy in Washington D.C., countless newsmaking interviews, and notably, her unwavering support for generations of young women — and men — who would follow in her footsteps."