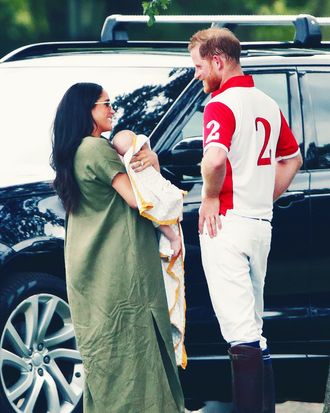 Photo: Max Mumby/Indigo/Getty Images
Don't you agree that it is annoying when an adult marks an accomplishment by saying "baby's first"? "Baby's first cubicle!" that sort of thing. "Baby's first commute to the office!" "Baby's first birthday cake in the break room!" "Baby's first picking up on a general sense of unease around her co-workers!" "Baby's first hearing rumors about the company's precarious financial standing." "Baby's first getting called into a room talk to HR and one of her superiors … " Ugh, enough already; you're an adult. This is a real baby's first, though — baby's first pub!
According to a new report from TMZ, a few Sundays ago, Prince Harry and Meghan Markle brought their then-4-month-old teeny peanut baby Archie (potentially named after a cat who got fat from eating too many grapes) to a pub called the Rose & Crown in Windsor, England, which is near their home at Frogmore Cottage. Archie is getting so big, as we know, and now he is getting so worldly, at the pub.
According to TMZ, which has photos of the event if you'd like to see, Archie kept quiet for the two hours the family (and their security detail) spent there:
Instead of taking in a cricket or football (soccer) match on the telly … we're told Archie kept pretty damn quiet for the 2 hours the family was there. Not a single peep outta the little guy — even when Mom changed his nappy, (that's what they call diapers).
(FYI — that's what they call diapers.) They were reportedly left mostly to themselves by the other patrons. That's nice. Did Prince Harry close any of his own car doors while he was at the pub, you must be wondering? TMZ does not specify, but if we know Prince Harry — and I think we do — the answer is likely an unfortunate yes.