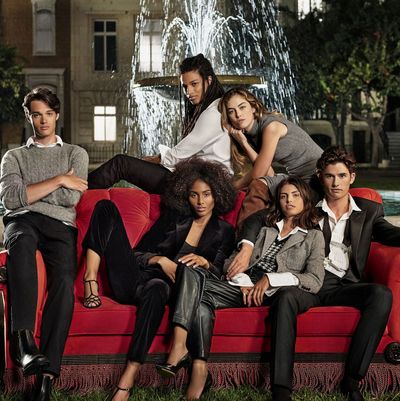 Congratulations to our beautiful, fictional Rachel Green, who has gone from being merely an employee of Ralph Lauren to becoming the designer's muse. Style-wise, she may largely be remembered for her layered bob, but she nonetheless has inspired a Friends 25th-anniversary collection for Ralph Lauren.
The clothes themselves aren't really on-the-nose Rachel, but they are cute and preppy, and include notes of both '90s eclecticism and minimalism. The collection features velvet pantsuits, leopard-print coats, and a yellow-plaid miniskirt (which reminds us of another '90s heroine, but we digress). A gray, sleeveless, turtleneck midi dress could be worn by either Rachel or Monica, but the purple shearling coat is undeniably Phoebe (although Phoebe would prefer it to be vegan, surely). Sadly for Ross, the only leather pants are billed for women. But there are three varieties of leather pants, ranging from a paperbag-waist style to a skinny pair you might get stuck in.
If you're a superfan, there will be a Central Perk pop-up at the Bloomingdale's NYC flagship store on September 21 and 22. So that's two of Rachel's former employers that are honoring her impact on the fashion industry.
Really, it's a testament to how far you can go in the fashion industry over two and a half decades. It seems like just yesterday that Rachel was lying to her boss about sleeping with Ralph Lauren.