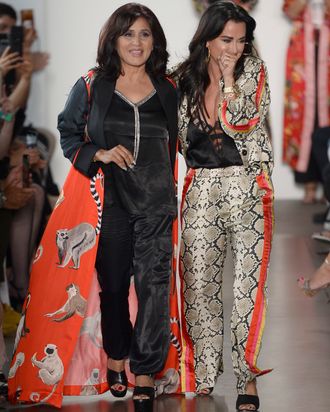 Photo: FERNANDA CALFAT 27/Getty Images
Many designers choose to make their fashion show dramatic productions, but when a cast member from Real Housewives Of Beverly Hills decides to start a fashion like, as Kyle Richards did, spectacle is a given. Richards partnered with designer Shahida Clayton on a new line, Kyle and Shahida, which debuted yesterday at New York Fashion Week. Crew members with giant cameras flew around the venue during the show, making it feel more like a TV set than a runway. Which, to be fair, was an effect Tommy Hilfiger and Zendaya strove for last night at their wild party at the Apollo theater.
Richards says she's admired and worn Clayton's designs for years. "I was always wearing her stuff to Coachella and my niece Paris [Hilton] would stop me and say 'I love those prints, who makes that?'" Richards told the Cut before the show. True, the line is not for minimalists. Almost every piece was printed, including a medley of jungle-inspired prints featuring monkeys, birds, and flamingos. "A portion of the proceeds will go to a foundation helping out animals and the environment," Richards said. Currently, they're trying to find the right fit.
But the clothes were almost incidental compared to the models — Richards's Real Housewives cast members. Teddy Mellencamp, Lisa Rinna, Erika Jayne, Denise Richards, and Dorit Kemsley walked along with Faye Resnick, two of Richards's daughters, and '90s model Patricia Hartman. New cast members Garcelle Beauvais and Sutton Stracke sat in the front row, close to Paris and Nicky Hilton. Because it was a reality-TV shoot in addition to being a fashion show, many in the audience had to sign releases. (One front-row guest declined to sign one and spent the show hiding out near the photographers, away from the cameras.)
Maybe because they were not just walking for the audience, but for all of their fans on Real Housewives, those modeling played it up. Rinna, decked out in a black bodysuit and a printed duster (to take her look and make it "more Kyle," according to the show's stylist Joan Reidy), twirled before leaving the runway. Richards high-fived Beauvais. Beauvais and Stracke smiled at every look.
Many Housewives have used their status as TV stars to launch brands, to varying degrees of success. But Richards and Clayton have big dreams for their line. Clayton described the brands' aesthetic in one word "empowerment" and said she hoped it would be carried in all major retailers. Richards said their client goes up from "young girls to older women," and added that men could wear the collection, too: "Something for everyone." Richards took a tearful bow with Clayton at the end of the show. Spliced into two minutes, it would make for pretty good TV. You can watch it on Housewives at some point next season.