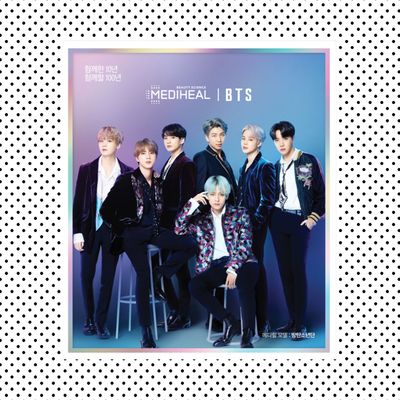 Photo: Courtesy of the Retailer
There are seven members of the K-Pop group BTS, and they all have better skin-care routines than you. Every single person in Korea's biggest musical act has glowy, bouncy skin, and it's in large part due to Korean beauty. The group is so into moisturizing that they've partnered with Mediheal, Korea's biggest sheet-mask company, several times to create limited-edition versions. Every time, the masks sell out, but the Cut was lucky enough to nab the most recent one. Here's what happens when you try to stay damp like a K-Pop star.
Erica Smith, Beauty Writer
My favorite part about this mask is it's really slimy — in a good way, like it's not messing around. My second favorite thing is that it comes in a heart-shaped bowl, which eliminates mess while unfolding the sheet and ensures all the goopy goodness stays on the mask, rather than in the crevices of a regular wrapper. My third favorite thing about this mask was how well it adhered to my face. It's very snug, like a comforting (if creepy-looking) second skin. Fourthly, it has the most satisfying peel when it comes time to remove.
I tried the soothing mask, and while I didn't notice any visible effects, my face did feel more chill. Like it had been hugged. I was expecting my skin to look dewier and wetter post-masking, but it seemed like the majority of the product actually sank all the way into my skin, which I guess is what you should want at the end of the day.
Callie Beusman, News Editor
I love BTS, to an extent that may seem disconcerting to a person who lacks the enthusiasm and good taste I am fortunate enough to possess. I have seen them perform live twice in the past year. I religiously watch all of their reality shows, including the second and third ones, which are now defunct. I have spent human currency on their incredibly tedious iPhone game. For this reason, I felt very qualified to review their newest collaboration with Mediheal.
The masks came in little geometric boxes that evoke jewels, which seems not-standard (but what do I know!). Since there were three of them, I decided to enlist my sister and my best friend, whom I have dragged into my yearlong BTS spiral, to test them with me. The first thing we noticed was that they were incredibly moist, like the moistest thing one could imagine. They were simply dripping with … something that makes you beautiful … when we extracted them from their carriers. They also smelled really good. "It looked like a plastic trash bag salvaged from the ocean," my sister said when asked for her review of the mask she used. My friend agreed that the presentation seemed weird, "but since BTS stood behind it, so do we!!!" How did we look afterward? To be honest, I am not attuned enough to the subtle fluctuations of my face to notice whether applying sheet masks makes an impact, but we all feel on a spiritual level that the process left us incredibly soft and beautiful.
Kathleen Hou, Beauty Director
I miss the good old days when boy bands weren't so good at beauty. Back in my day, the Backstreet Boys probably collectively shared one bar soap from their danky tour bus and thought a smoky eye was a type of fancy cigarette from France. Nowadays, K-Pop boy bands have better makeup and dewier skin than me and it is annoying.
It's only fitting that Korea's biggest boy group partner with the country's biggest sheet-mask company (rumored to sell five sheet masks every second). I like how this sheet mask molded to my face so closely that I looked like Voldemort. Even better, I like how bright my skin looked after using it. Although my face felt moist for hours after, it wasn't so wet that I couldn't apply makeup over it. These masks are very, very good. If I were a pop star, I would definitely make them a part of my tour rider.
Daise Bedolla, Social Editor
I don't listen to BTS on a daily basis, but on the list of celebrities whose skin secrets I want, they are at the top. After using their "moisturizing" mask, I'm officially a hydrogel-mask convert. My usual cotton sheet masks just can't hold up to the gooey, slippery goodness of this one. It fit my face perfectly and barely slipped as I walked around my apartment. I kept it on through an episode of Friends, patted the leftover serum on my neck, and continued my usual routine. The next morning, my face looked glowy and bright, and had a supple bounce like I'd slept eight hours and not just six.
Devon Sherer, Snapchat Producer
I loved these masks. The packaging, while not very ecofriendly, was super cute. Each mask felt a little different (some were more tingly than others), but they were all very easy to apply. And unlike many masks, they weren't hard to position or so heavy that they fell off. My skin was dewy for hours, and it continued to feel super moisturized for two straight days.
If you buy something through our links, New York may earn an affiliate commission.