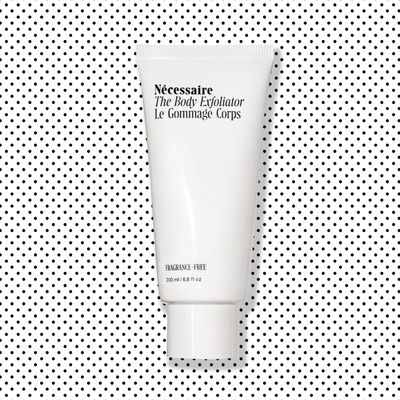 Photo: Courtesy of the Retailer
Tis the season for scaly legs and reptile-like elbows. Or it will be soon anyway. In advance of fall and winter, the dry skin seasons, the Cut decided to test out this body exfoliator that's already getting a lot of love on Instagram and online. Necessaire's luxurious, "clean" body lotion formulas are already a hit, so the brand has decided to expand more on pampering your body skin with The Body Exfoliator. Here's what several Cut staffers thought of the new product.
Erica Smith, Beauty Writer
I have extremely dry legs that are perpetually thirsty. I don't exfoliate them as much as they'd like, but this body exfoliator will change that. The presence of chemical exfoliants (glycolic, lactic, salicylic acids) gives it facial skin-care vibes, which is a good way to trick yourself into turning your body care into a whole sacred ritual thing that you actually stick with.
I went with eucalyptus because I know I'll never be a branch shower person. The scent was just right: not overpowering and not trying to be five different calming plant smells at once. The formula comes out as a luxurious-looking black gel, but what I love most about this scrub is how the extremely fine little pumice beads stick around for a while. I've tried a few other higher-end scrubs where the beads almost instantly turn into cloud foam, making them feel more like a regular body wash. Sometimes I want to feel that tingly, all-over scrub scratch as I wash the day away. My skin felt noticeably softer after using this and nothing was irritated, which are both good signs. Be forewarned that the formula is quite liquidy, though, so squeeze with caution.
Izzy Grinspan, Senior Editor
I have already gone on record as being a fool for charcoal, so perhaps it's not a surprise that I like this stuff. I tried both the unscented and the eucalyptus and found that they both come out in a fun squiggle of clear gel with little black charcoal dots suspended in it. When you rub it into your skin, the dots dissolve and the whole thing foams up into a nice, soothing, gray-tinged blue color, the exact shade I am constantly looking for in a linen duvet cover. Both kinds left my skin feeling nice and smooth, and the eucalyptus one also left behind a faint but pleasant scent. I'm excited to use it again.
Kathleen Hou, Beauty Director
My face is dewy, but my legs are dry. I need to be lazy somewhere in my beauty routine, and my face is a six-step process, so my kneecaps and the rest of my body don't get much attention. That's probably why they reacted so well to this exfoliator. The grains were nice and fine, so they didn't shred my skin or require much rubbing to work. The formula lathered up nicely into a minimal foam that felt clean, slightly emulsifying, and moisturizing. It rinsed off cleanly, without any sort of greasy residue, and was pleasantly unscented, as promised. It obviously wasn't the same level of exfoliation or skin softness when I get a Korean body scrub, which makes me feel like I am cleansed of all my sins and several layers of dermis, but it's comparable.
Madeleine Aggeler, Writer
I tried the eucalyptus-scented Necessaire exfoliator on my forearm, in my office bathroom. Even in those less-than-ideal conditions, the scrub was pleasant. It has little bits of pumice that make you feel like it actually is exfoliating, without being as abrasive as, say, St. Ives. The smell is subtle, but sticks around enough after that if you press your nose into your skin and take a big whiff, it smells like you're in a garden. My arm didn't feel noticeably softer after one use, but given that the scrub combines pumice and chemical exfoliators, I can see how it would smooth your skin after continued use.
Sangeeta Singh-Kurtz, Senior Writer
This is one of those rare, gentle body scrubs that doesn't feel like you're rubbing smashed fruit pits onto your body. It left me feeling softly exfoliated, a pivot from harsher scrubs that make me feel clean but tend leave me with bone dry skin. It also doesn't go overboard with the scent; it smelled subtle and sophisticated. I'll definitely restock when this one runs out.
If you buy something through our links, New York may earn an affiliate commission.