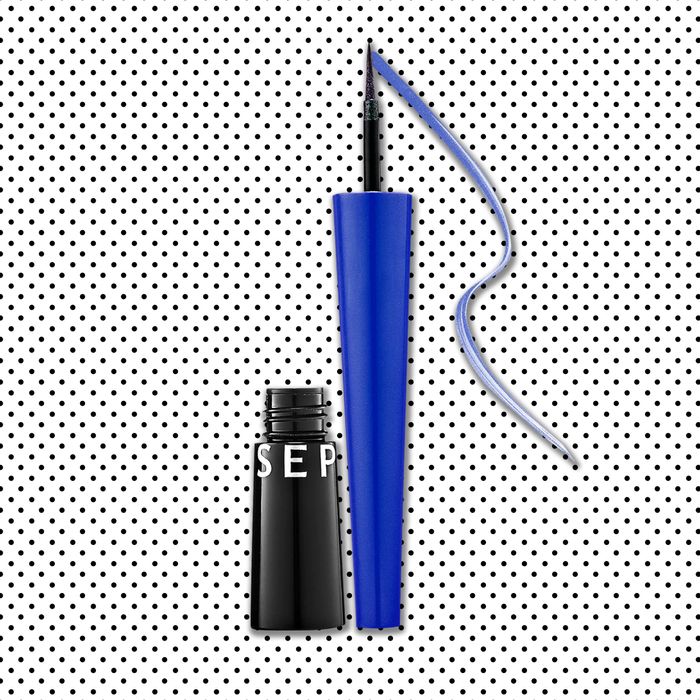 When I quit smoking three years ago, what I missed first were the strangers it had brought into my life. Smoking gave people a reason to talk to me. But earlier this year, I took a chance on a tube of Sephora Collection's Long-Lasting 12 HR Wear Eye Liner in Fancy Blue, and it's the closest I've come to getting all my strangers back.
I can't take credit for the idea. Sometime in late spring this year, someone I follow on Twitter (I'm absolutely tortured that I can't remember who) tweeted a photo of herself wearing bright-blue eyeliner, and I, in my navy-blue eyeliner, wasted no time running to Sephora in the middle of the workday to copy her.
Here's the problem with eyeliner: It's easy to convince yourself that more money buys you a higher-quality product, but all it really does is buy you better packaging and better marketing. At $12, Sephora Collection's liquid eyeliner lasts about the same amount of time as a former favorite eyeliner of mine but at half the price. If I apply it at 8:30 a.m., I can go until about 6 p.m. without having to fix or reapply it (which is a true miracle given how determined my eyelids are to shed whatever's on them).
Ever since I started wearing Fancy Blue, I get compliments every single day, sometimes in multiples. I have conversations with strangers about our greasy eyelids, the colors we're working up the courage to try, the products we think are scams — I haven't spoken to this many strangers per day since I was a smoker, and I love it. It's that small, seemingly insignificant bit of access to other people that's easy to take for granted, a certain strain of "how about the weather" type of conversation I thought I'd never get back.
If you buy something through our links, New York may earn an affiliate commission.