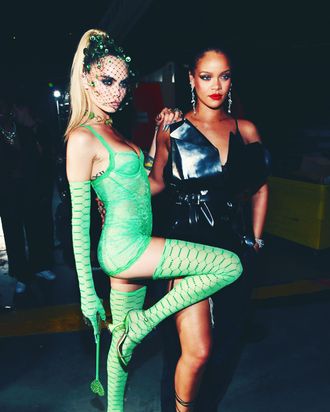 Photo: Kevin Mazur/Getty Images
You've probably never gone shopping for lingerie thinking, How can I look more like a sexy alien? Or, maybe you have, no judgement. But if anyone can pull off head-to-toe green lace, it's Cara Delevingne, with a little help from Rihanna and her lingerie line Savage x Fenty.
While a neon-green bodysuit may be standard fare for Rihanna's label, the piece that really brings Delevingne's outfit together is the green riding crop with a heart-shaped rhinestone pad on the end. As sexcessories go, it's definitely easier to carry than a sex bench. Look closely at Delevingne's stockings and gloves, and you'll see "Savage" and "Fenty" making up the honeycomb pattern. Plus, more rhinestones hanging off the end of her gloves.
Rihanna's hotly anticipated fashion show will air on Amazon on September 20, at which point you'll be able to shop the collection on Amazon and the Savage website. The show, which filmed during New York Fashion Week, was essentially a giant concert with incredible dancers, top models, and musical acts. It makes you think, Victoria's Secret could never. While you're waiting for the 20th, please enjoy these behind-the-scenes photos of Rihanna's models, including Bella Hadid, Gigi Hadid, and Paloma Elsesser. Featuring Bella as the hottest glass of orange juice you've ever seen, Gigi as a flapper vixen crying silver tears, Paloma Elsesser as Cupid (with her own heart-shaped crop instead of a bow and arrow), and more!