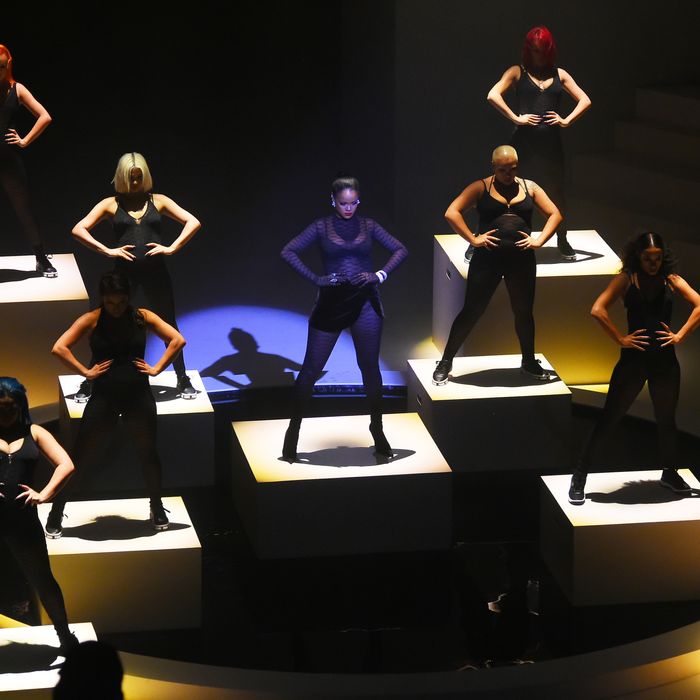 Photo: BEN GABBE/Getty Images for Savage X Fenty
You know when you bite into really fresh fruit or fish, and you're like Oh, this is what it's supposed to taste like? That's how I felt watching Rihanna's Savage x Fenty lingerie show on Tuesday night at the Barclays Center in Brooklyn. It was an awakening. A revelation. My palate has been so thoroughly cleansed, I forget how deprived I was before. Now, there is only pre-Fenty and post-Fenty. I'm fairly certain that I'm not exaggerating.
Savage x Fenty made its New York Fashion Week debut last September after launching in the spring of 2018. It was so exciting, one pregnant model went into labor immediately afterwards. Viewers at home could stream it online, but this season's megaproduction will reach a significantly larger audience — around 200 million — with the help of Amazon Prime Video, which will reveal last night's footage to members on September 20.
Bezos and Bad Gal may seem like unlikely bedfellows, but Rihanna's goal was to reach as many people as possible this season. (That doesn't mean she's not a sucker for Prime like the rest of us. She told press that the last thing she purchased on Amazon was Darth Vader cufflinks for a certain someone.) With such a huge backer, she was also able to fund a Victoria's Secret–level spectacle, complete with musical acts, supermodels, and a massive stage set.
"Last year, we laid the foundation for what the brand stood for," Rihanna told the Cut at about 1:30 a.m., when she had finally wrapped. "Here's our bottom line: We're inclusive. We want women to feel confident no matter what size they're in. This year, it was about: How do we expand that? How do we make more women feel more confident?"
In order to ensure that last night's footage remains secret until two weeks from now, everyone in the audience — including Anna Wintour, Edward Enninful, Kacey Musgraves, Diplo, and a number of Victoria's Secret models — had to surrender their phones, which were then sealed in a bag and locked for the duration of the 30-minute performance. (I was told that Luka Sabbat, among others, did not abide by these rules, but spoilers have been kept to a minimum.) I don't need my phone to remember what I saw, though, because it will be seared into my brain until I inevitably watch it again. (And again.) Victoria's Secret, who?
When asked if Rihanna was coming for the brand's turf, comedian Phoebe Robinson replied: "Of course! They better watch out."
Performer A$AP Ferg agreed. "She's giving us a whole damn Super Bowl performance," he said before the show.
Around 9:30 p.m., the lights went up, and there she was: Rihanna! Standing with her hands on her hips underneath a spotlight, wearing a mesh, long-sleeve bodysuit and a velvet mini skirt. She stood on a platform above a shallow pool of water surrounded by women of different body types and skin tones, each also wearing a sleek black leotard. Later, she told press that she wanted the opening image to be all about silhouette.
Dramatic music blasted over the speakers and Rihanna started dancing, isolating her muscles like the hottest mime you've ever seen. It's been a long time since Rihanna went on tour, and some of us may have forgetten that she has moves. What's more shocking: She only had two and a half hours to rehearse after deciding at the last minute that she wanted to open the show. But Rihanna is a performer, first and foremost. And she's still got it.
Next, Gigi Hadid appeared in a black lace corset, plus a matching thong garter and lace cap. The drama! This was not the all-American "angel" we've seen on the Victoria's Secret runway. She didn't owe anyone a smile.
Big Sean was the first to perform, followed by A$AP Ferg, Migos, Halsey, DJ Khaled, Fat Joe, Tierra Whack, and Fabolous. Alas, Rihanna did not introduce any new music, but let's not get too greedy. Still, I was surprised she chose so many male performers. Victoria's Secret often does the same, but it didn't feel as icky this time; there was less ogling. It was clear that the performers were there to keep the crowd hyped, rather than for the reaction shots. The only singer who interacted intimately with models was Halsey, who herself has a history with VS.
Cara Delevingne lead an all-green lingerie portion, taking the stage with a bedazzled whip which she used to hypnotize a row of models. "Oops (Oh My)" by Tweet featuring Missy Elliott played as the dancers spread their legs and gestured as though they were touching themselves. They got on their hand and knees. They grabbed the butt cheeks of the person in front of them. Clearly, they were enjoying themselves — and the company of their peers. I could never imagine myself wearing angel wings, but seeing how into it they were, I felt like I could relate to them.
"It's such a wonderful feeling backstage; everyone is lifting each other up," Delevingne, a former Victoria's Secret model herself, told press beforehand. "There's so much love involved. I've never seen anything like this, honestly."
21 Savage took the stage arm in arm with Joan Smalls, who wore a red lace corset. Laverne Cox strutted out in a neon pink leotard, closing her routine with a leg kick so high it bowled me over from the back of the auditorium.
There was a Cellblock Tango number, with performers winding and grinding in individual windows. Flesh bounced freely. "Shake That Thing," by Sean Paul played as Normani almost (almost!) outdid her "Motivation" routine in nothing but a bra and panties. There was a BDSM portion. Alek Wek, Aquaria, Bella Hadid, and Paloma Elsesser also made appearances.
The show's choreography, which was done by Parris Goebel (of Justin Bieber "Sorry" fame), was far and away the highlight. There was a strength to it that gave the show seriousness. The dancers were in full control of their bodies, and it was that energy that gave them sex appeal. No matter how hard Victoria's Secret tries in the future, it will be hard to unsee what's been missing from their stage for so long.
"Parris is a badass bitch," Rihanna told the Cut afterward. "I love how she makes everything sexy, despite society's ideal of what sexy looks like. She makes me feel like the shit. I don't care about any skinny Victoria's Secret model when I look at Parris. I want to be that woman on the inside. I want to feel that bombastic. She gives me so much hope."
At the end of the night, I heard someone express the exact sentiment that Rihanna and her team were trying to provoke. From somewhere behind me came the cry: "I LOVE THESE WOMEN!"