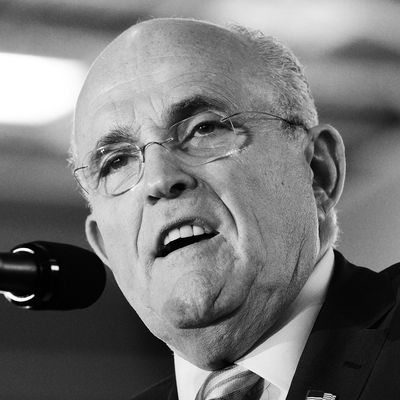 Rudy Giuliani.
Photo: Gerardo Mora/Getty Images
With all the hubbub right now surrounding an anonymous whistle-blower's complaint about President Trump's questionable July 25 phone call with Ukrainian President Volodymyr Zelensky, and the subsequent impeachment proceedings against him, let's check in on Trump's personal lawyer, former New York City mayor Rudy Giuliani, to see how he's doing.
Oh.
The complaint, which was published this week, alleges that President Trump tried to pressure President Zelensky into investigating former vice-president and current 2020 presidential candidate Joe Biden ahead of next year's election. Giuliani, in a very Giuliani fashion, is heavily involved in the controversy; he's been accused of flouting national security procedures in his frequent meetings with Ukrainian officials.
As the situation grows more serious, Giuliani has responded by publicly spiraling out in a variety of ways, including: saying absolutely deranged things on TV, threatening to start a podcast, calling a journalist to scream about being a hero, and showing off some of his texts on his iPad, which appears to have size 80 font.
Here he is on CNN last week. In just under a minute, the president's attorney managed to both deny that he had ever pressed Ukrainian officials to investigate Biden, and confirm that he had pressed Ukrainian officials to investigate Biden.
Then, on Thursday, The Atlantic published an interview with Giuliani, in which he ranted against the whistleblower complaint, and fumed, "It is impossible that the whistle-blower is a hero and I'm not. And I will be the hero! These morons — when this is over, I will be the hero."
Hours later, on Thursday night, he appeared on The Ingraham Angle on Fox News, and held up an iPad with texts from the administration's special representative to Ukraine, Kurt Volker (texts which Giuliani says prove it was the State Department that reached out and asked him for help in Ukraine in the first place) in a font big enough to be seen from the International Space Station.
There was also this:
Finally, and perhaps most distressingly, Giuliani was reportedly at the members-only Grand Havana Room cigar bar this week, "holding court with a big crew," and "announcing to everyone that he is launching a new podcast," though it is unclear what the podcast would be about.
The whistle-blower did not say whether or not Giuliani had secured a MeUndies sponsorship for his podcast yet.