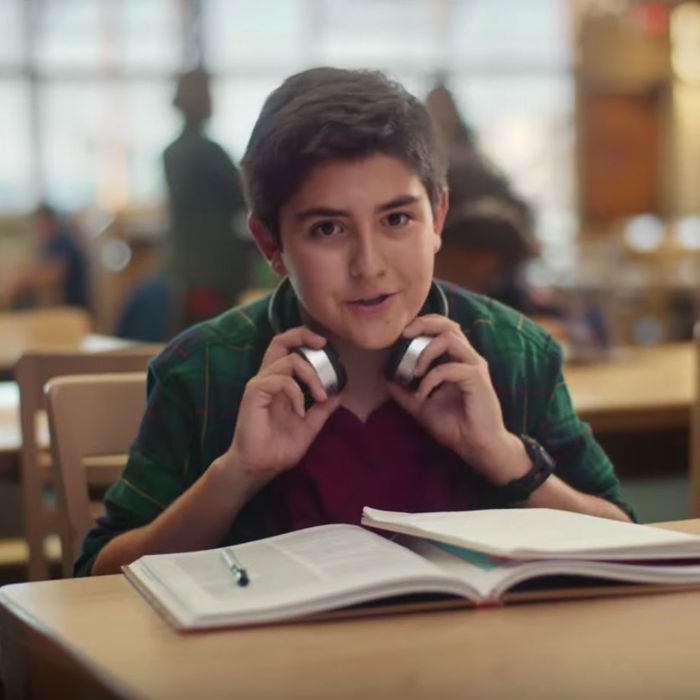 One student shows off his new headphones in the ad.
Photo: Sandy Hook Promise/Youtube
There are a few things that students should think about when they're going back to school: their class schedule, new supplies, and even new crushes. In light of the ongoing mass shooting epidemic in the U.S., however, many students also have to think about the potential of an active shooter on campus.
Sandy Hook Promise, a gun-safety advocacy group founded by parents of the victims of the Sandy Hook shooting, has released a new ad just in time for back-to-school season. The ad begins innocently enough — a boy stands at his locker, showing off his brand-new backpack; a girl sits in a classroom, showing off her new binders.
From there, the video starts to take a turn for the worse. A boy talks about his new (seemingly noise-canceling) headphones for studying, which he puts on at precisely the same moment as the kids around him start to run and scream. As one boy runs down the hall amid his terrified classmates, he praises his new sneakers.
"This jacket is a real must-have," a girl says as she ties it around a set of double doors to bar the shooter from the gym. Other students continue to show off their supplies (and their grim uses) as gunshots ring through the halls. One girl uses her new sock as a tourniquet for another student's bleeding leg.
The final scene is by far the most haunting. A girl hides in a bathroom stall, typing out "I love you mom" to her mother on her new phone. She's shaking as she cries, and you can hear the door open and footsteps heading toward her.
The ad is graphic and disturbing, and intentionally so: "Gun violence and school shootings are not easy subjects, and they shouldn't be fun to watch," Sandy Hook Promise co-founder Nicole Hockley, whose 6-year-old son Dylan died in the Newtown shooting, told the New York Times. Since the 2012 attack that claimed the lives of Dylan and 26 others, over 400 people have been shot on school grounds throughout the country. And yet, Congress hasn't done anything to curb gun violence; meanwhile, children as young as 5 are being taught how to ward off active shooters at school. Maybe a harrowing ad like this will finally inspire some action.