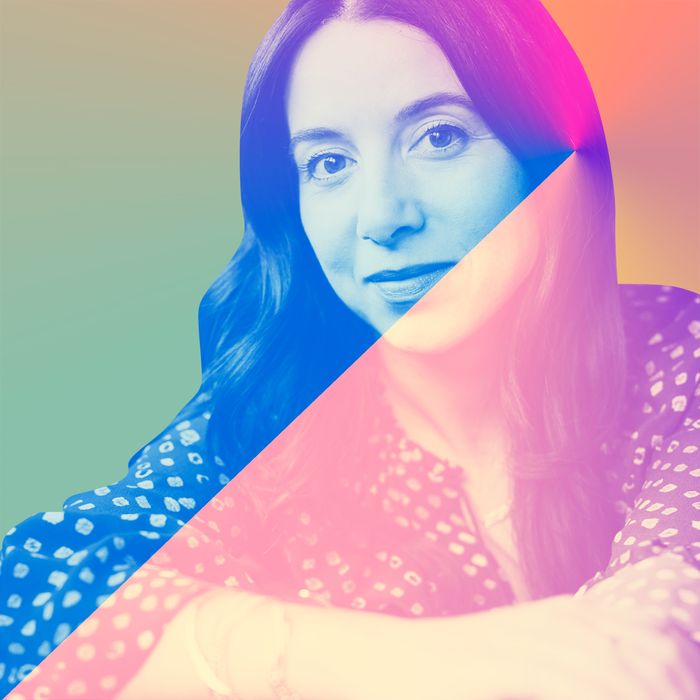 Photo: Courtesy of Ilia Beauty
For Sasha Plavsic, it started with a lip balm.
"I wanted to create a tinted lip balm because I couldn't find anything appealing, aesthetically or ingredient-wise," explains Plavsic, founder of the clean makeup brand Ilia Beauty.
It was 2008, and Plavsic already knew a thing or two about clean, about makeup, and, about, well, brands. The Vancouver-area native, who had graduated from the London College of Printing, had done her fair share of rebranding and worked at New York-based Tank Design agency; Vancouver-based Nouveau magazine; and eyewear retailer Luxottica, for whom she worked on several lines that fell under the name. She was based in Orange County when Urban Decay tapped her to help with its packaging. The company wanted to bring her on full time, but a milestone hit that kind of paralyzed her.
"I had just left a relationship, I turned 30, and I was lost," she explains. "I find that a lot of women freak out at 30, and I was one of those women. I wanted to go home, where I felt safe." 
Back home in Vancouver, she worked with Saje Natural Wellness (more rebranding!) during the day, but she began forming that yet-to-be-named, yet-to-be-made lip balm at night.
"I was drawing logos. I'd go online looking for people who did packaging. I started going to trade shows. I had no background, but I just wanted to figure it out." She laughs. "I met a formulator in one of my yoga classes who connected me to another formulator. I'm a firm believer that if you put it out there, what you're looking for just starts showing up."
Two years and lots of trials and errors later, she sent her newly minted six Ilia Beauty Tinted Lip Conditioners to ABC Carpet & Home in New York and Colette in Paris.
"I sent them blindly, not knowing anyone, and they both reached out saying they wanted to carry them."
That was eight years ago, and since then, the brand has steadily grown. Fast forward to Sephora's annual leadership conference in Las Vegas last month. The conclave is always divided into two rooms: one for the bigger brands, and a smaller room for the indies — Kosas, Youth to the People, Biossance, and Ilia Beauty.
"The last couple of times we went, we'd been in the 'What's Next' room, always feeling like the weird step-cousins," she remembers. "But this year, the indie room was the place to be. You could just feel the energy. I turned to my partner Linda and said, 'We're here.'"
Plavsic spoke with the Cut about the importance of being upside down, the catharsis of a good cry, and her prediction for the next nail trend.
What's your definition of beauty?
Being comfortable in your own skin.
What comes to mind when you hear the term "clean beauty"?
A category that is currently on a rocket ship and that has taken the industry by storm.
Where, if anywhere, in your beauty (or life) routine are you not quite "clean," "green" or "sustainable"?
My use of plastic. I'm trying to cut down, but I'm still blown away with how much plastic we are all using and throwing away each day.
What is the opposite of "beautiful"?
Damaged.
What discontinued product do you mourn?
A nude shade of lipstick from Clinique back in the '90s. It was my first lipstick, and I can't remember the name, but I do remember the beauty of the shade.
What is your morning beauty routine?
It's fast and usually under five minutes. Shower with Necessaire the Body Wash in Eucalyptus, One Love Organics Vitamin C Body Oil, Marie Veronique C, E+ Ferulic, a prototype of our new SPF tint, Multi-Stick in the shade Dreamer (lip, cheek, eye), Limitless Lash Mascara and Essential Brow, all by Ilia Beauty.
What's the last beauty product you use every night?
I enjoy a good AHA and have been using Nonie of Beverly Hills for over a decade. In my younger years, people asked if I had Botox when I used it consistently, which to me means it's working!
Who colors your hair?
Myself and Madison Reed at home, usually when my baby is sleeping!
Facialist?
A nearly 70-year-old Vietnamese lady in Vancouver named Tammi, who I have been seeing since I was 13. She's private, but if you're interested, DM me. Tammi taught me a lot about skin. I used to suffer from acne in my teens, but she said my skin was young and oily and that I didn't need anything. She was right; it was oily through my early 30s! She would steam my skin, do extractions, then massage my face to help increase blood flow, which helps speed up healing. She instructed me to massage my face in downward strokes in the shower, then, to get more blood flow to my face and head, to flip my hair upside down and brush the scalp strongly to increase more blood flow. Basically, I should be doing my morning routine on my head. We're always upright or lying down, but flipping upside down is what we really need.
Favorite spa:
Four Seasons Mexico City. I had their intense two-hour tequila massage and followed it with a much-needed cry.
What aspect of your beauty routine tends to be neglected?
Microcurrent. It takes time to go do it and time to maintain it daily. I do believe it is a very effective treatment to tone and tighten when done regularly.
Mascara of choice:
Ilia Beauty's Limitless Lash Mascara.
Eyeliner of choice:
Our new Clean Line Liquid Liner in Midnight Express.
Base of choice:
A new SPF we're making that I can't wait to share.
What, if anything, is usually on your lips?
Ilia Beauty Tinted Lip Conditioner in Arabian Knights.
What shade, if any, is usually on your toes and/or hands?
Lately I've only been buffing my nails and they've become much stronger. Next step is to do the same for my toes. Scary to go bare, but think it could be the next thing for nails.
Facial cleanser of choice:
Weleda Gentle Cleansing Foam.
Fragrance of choice:
Escentric Molecules 01. It works with your pheromones, and some people can smell it on me from across the room, whereas others right next to me can't smell it at all. Pretty cool.
Deodorant of choice:
Schmidt's Geranium Flower. It works for at least two months and then I need new one, though I'm not sure why it stops working. Maybe it's the hormones. But there are many new brands to try in this category.
Bath or shower?
Bath, with two cups of epsom salts mixed with Herbivore Detox Soaking Salts that smell like eucalyptus.
Most relied on hairstyling product and/or tool:
Not a clean one: Unite 7 Seconds Detangler, and an elastic band. Spritz, brush, wrap into a low bun, and take it out five hours later for soft, silky waves.
Scented candle of choice:
None. I prefer a nebulizer with a diffuser blend of essential oils . My favorite scent is Tranquility from Saje Natural Wellness. Can you tell I am from the West Coast?
What beauty product still needs to be invented?
A product that can cause cells to turn over as fast as baby skin, which is about two weeks.
Daily carryall of choice:
Due to diapers, milk, and baby food, I hunt for totes on the Outnet and love anything from Marni. Amazing quality at a great price that helps pull everything together in a minimal way.
What is your classic work uniform?
A onesie, because it's just one thing less to think about. Lately, I've been enjoying many from Apiece Apart.
What is your most comfortable shoe?
Chloé slides.
How do you like your living room?
No kid toys in sight (not a reality), and minimal furniture that I won't cry about if it gets colored on.
What do you splurge on?
Accessories, shoes, bags, or anything that I think is really unique and special and that I won't come across again.
What do you scrimp on?
Nursing bras. When it's over, I shall burn them.
Any hidden or secret talent or skill you possess?
I am double jointed in most of my joints, which can either be a great conversation piece or totally freak people out.
If you could have one ridiculous indulgence, what would it be?
A gold Cartier Panthère watch.
What would the name of your autobiography be?
Pragmatic and Persistent.
Who would star as you in the film adaptation?
Cher, circa Moonstruck.
What word or phrase do you overuse?
"You know." You know … you know?
Favorite smell?
Jasmine.
Least favorite smell?
Leftover beer in a bottle the morning after.
What do you think Pantone's color of 2020 should be?
A teal peacock green, because the last few years have been a little flat.
What must you adjust or fix when you see it done incorrectly?
Typography. It drives me crazy, and half the time I let it go because we don't have time to adjust.
What are most of us still doing wrong?
Worrying about what other people think.
What do you wish more people knew about what you do?
That being a beauty-brand owner and a working mom isn't glamorous, and that even though I do a lot, there are many women out there, including lots of single moms who do more. In my experience, women can't have it all, but with the right support they can have a lot.
What is the biggest tip you can give that will change people's lives?
Your fear is what holds you back.
Best meal you ever had:
A foot-long masala dosa in Bangkok 15 years ago. There was a blown-out hole in the wall to get into the restaurant, so it was literally a hole-in-the-wall. It wasn't fancy by any means, but it was one of the best meals I've ever had.
What is always in your fridge?
Bio-K probiotic and Rosé — they cancel each other out!
Vice snack (or just vice):
This is very specific to right now: Trader Joe's Mexican-Style Street Corn Chip Dippers. You can't have just one.
What do you foresee as the top beauty trends for the remainder of 2019?
Clean beauty, clean beauty, clean beauty. There used to only be a few of us, and now I see a new brand every day. Ten years ago, I would never have thought it would become so much more mainstream. It took time for the consumer to catch up and for the category to build. The momentum and timing is clearly right now.
What product in your domain is misunderstood and should be a best seller?
Our Liquid Light Serum Highlighter. It's packed with marine actives that create a barrier on the skin and help protect it from pollution and UV light. I use it in my foundation to add a soft glow, then I add what's left over to highlight cheekbones and eyelids. I think maybe people don't realize that we are using active ingredients at an effective and active level — meaning above a marketing call-out.
What product is currently your favorite (understanding that this could change all the time)?
If you haven't tried anything from Ilia Beauty, our mascara, which launched last year, is a must. It lifts and curls, won't flake or smudge, and can easily be removed at night with a light cleanser and water.
If you won the Powerball tomorrow, what are the first five things you would do? (After, of course, donating the majority of it to your top charities …) Invest in a company that is developing something that can replace plastic and not pollute. Sustainable packaging for every industry that is actually sustainable — that is the future.