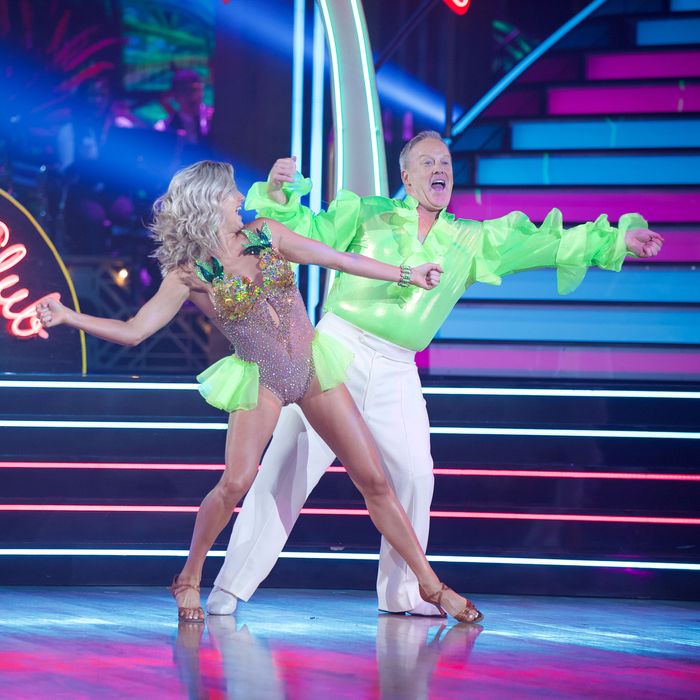 Photo: Eric McCandless/ABC
Is Sean Spicer appearing on Dancing With the Stars a sign of the end times?
Is watching him play the bongos and shoulder shimmy in a ruffled neon shirt to the Spice Girls song "Spice Up Your Life," which he has now ruined, so grim that it portends Earth finally succumbing to unrelenting dark psychic forces?
See for yourself:
If you can watch this humanoid bread loaf move his leaden hips out of rhythm without asking yourself what you did to deserve living in a world where something like this exists, by all means, embrace that fortitude. Take the wheel. Because I can't see the former White House press secretary shake his latex-clad chest behind his partner's glittery-pineapple bosom without texting my therapist.
We knew it was coming, but actually seeing Spicer on the celebrity dance show, which debuted last night, is still hard to believe. Could this be the man who referred to concentration camps as "Holocaust centers"? While seeming to defend Adolf Hitler? Who said that Donald Trump actually meant to type "covfefe" on Twitter, an accident of his Diet Coke–addled finger stubs?
Spicer himself in his video introduction confirmed that, yes, it was. "There's no question my time in the White House was tumultuous," he said, which is one way to put it.
Even before Spicer started dancing, when it became immediately clear that he would be humiliating himself (his partner referred to his skills as "pre-preschool level"), and after, when judges said he seemed to be "attacked by a swarm of wasps" onstage, there was no joy.
Because we also knew that Spicer is as immune to shame as he is unable to pull off neon green. That this nightmare vortex would open and absolutely nothing would happen. Except even more bad things, like Spicer's tweet about his performance in response to … Mike Huckabee: "Clearly the judges aren't going to be with me," he wrote. "Let's send a message to #Hollywood that those of us who stand for #Christ won't be discounted. May God bless you."
Dancing With the Stars, for Christ. This is where things stand now.