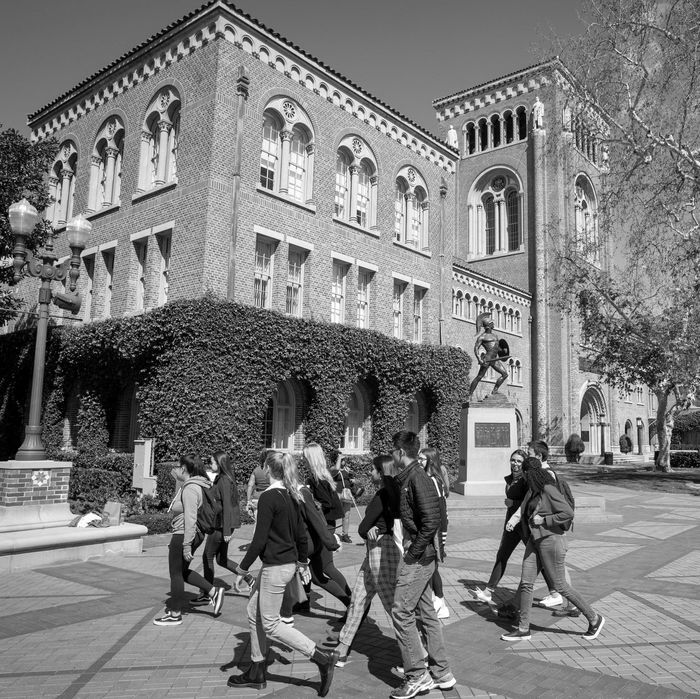 University of Southern California.
Photo: Allen J. Schaben/Los Angeles Times via Getty Images
A second parent is getting prison time over their alleged involvement in the sweeping college admissions scam — and more than a mere 14 days.
In a federal court in Boston on Tuesday, U.S. District Judge Indira Talwani sentenced California businessman Devin Sloane — who is among the dozens of parents accused of paying their children's way into an elite university — to four months in federal prison, a $95,000 fine, and 500 hours of community service, the New York Times reports. While this sentence is harsher than the lenient one the same judge handed actress Felicity Huffman on September 13, Sloane dodged the heavier sentence that federal prosecutors argued he deserved: one year plus a day. (Sloane's lawyers argued that their client should serve no prison time, and should instead pay a $75,000 fine and complete 2,000 hours of community service.)
Sloane's involvement in what the FBI dubbed "Operation Varsity Blues" wasn't as deep as some; one family, for example, is accused of paying $6.5 million to get their daughter into Stanford. Sloane's role, however, was more damning than Huffman's. In May, the businessman pleaded guilty to a single count of conspiracy to commit mail fraud and honest-services mail fraud for paying $250,000 to head fraudster William "Rick" Singer and a former university athletics official to get his son accepted into the University of Southern California as a water-polo recruit. Furthermore, federal prosecutors say he went to "unusual lengths" to get his son admitted to USC, and even staged photos of his son wearing water-polo gear to submit in his son's application. (To compare, Huffman — who was the first parent sentenced — paid Singer $15,000 to falsify her daughter's SAT scores. Furthermore, she claims she did not personally involve her daughter in the scheme.)
While Sloane has claimed in court documents that he was "targeted, manipulated, and slowly and deliberately lured into the conspiracy by Singer," during his sentencing on Tuesday, he said through tears, "there are no words to justify my behavior."
"The crime I committed is unacceptable," he continued. "In my heart and my soul, I want what's best for my son. I realize now my actions were the antithesis of that."
Per the Washington Post, Talwani is scheduled to sentence nine more parents over their alleged involvement in the scandal this week. That number does not include actress Lori Loughlin, whose next court appearance is scheduled for October 2.