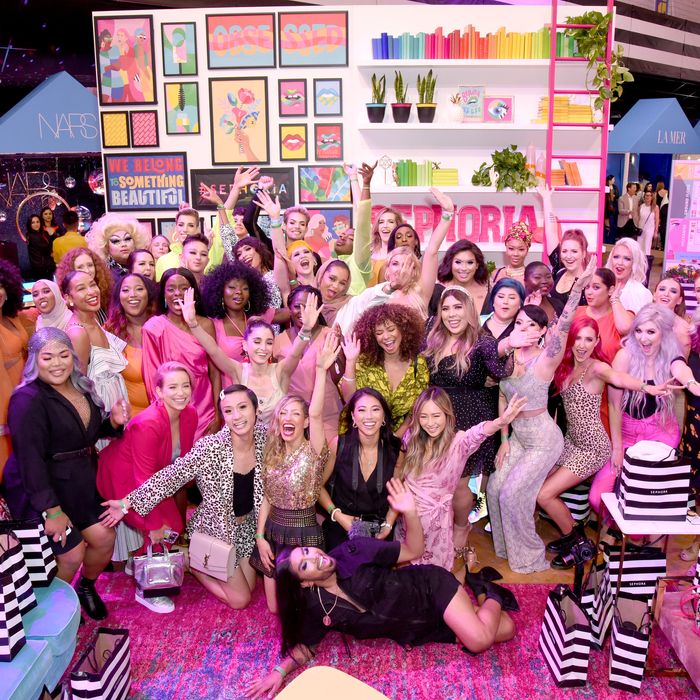 Photo: Presley Ann/Getty Images for Sephora
Last year, over 4,500 people attended the first-ever Sephoria, which sought to answer the question "What would Sephora look like if it were an entire festival?" This time around, the L.A.-based event attracted over 6,000 attendees — among them Moon Juice crystal queen Amanda Chantal Bacon. Master classes in beauty were taught by Tatcha's Vicky Tsai, celebrity makeup artist Patrick Ta, and full brow fanatic Kristie Streicher, and brands like Drybar, Benefit, and Living Proof offered free services.
Obviously, the most Instagrammable moments were popular — like the full-face LED masks, which give you an alarming red glow — but customization was also a major draw. So were the limited-edition items, like Fenty's 42 Glossy Posse Set, a collection of mini Gloss Bomb lip glosses that won't be in stores until October. Urban Decay gave Sephoria attendees the opportunity to get its new Naked Honey palette before everyone else. Korean beauty brand Innisfree also made its debut at the event, announcing Sephora as the brand's exclusive, global specialty retailer.
The annual event gives Sephora a kind advantage over competitors like Ulta and Amazon. Not only do attendees get to fully immerse themselves in all their favorite brands and products, but they get to connect with each other. "Meeting other people in the beauty community is a cool aspect to Sephoria," says Sephora CEO Deborah Yeh. "You get to say, 'I had a great time, I met some cool people, I love beauty even more, and I want to share with other people.' It's super simple; it's like Maslow's hierarchy of needs, right?"
See Sephoria in all its candy-colored glory below.