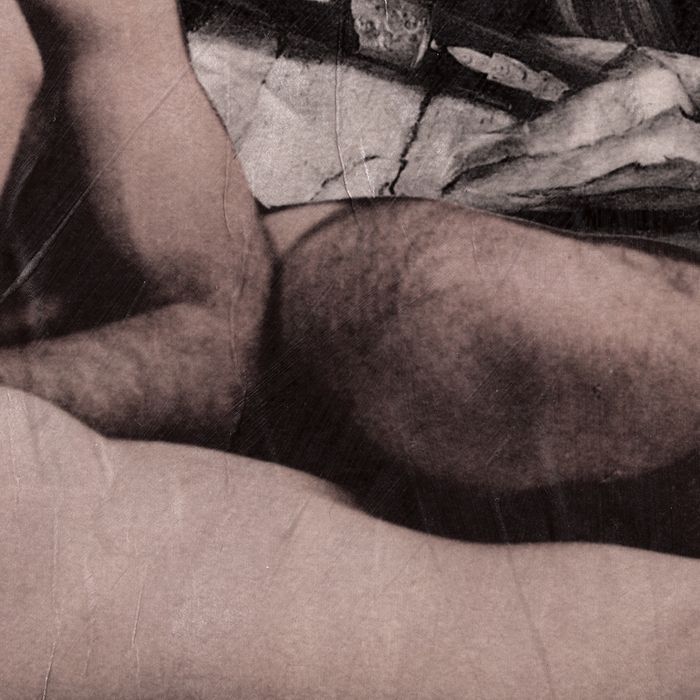 Photo-Illustration: James Gallagher
This week, a woman who lives at home and tells her parents all about her very active sex life: straight, single, Long Island, 30.
DAY ONE
7:00 a.m. I wake up super early every day even though I don't have to. I come from a family of early birds. Can't seem to escape my DNA …
11:30 a.m. I'm a pet groomer at a local pet shop. My shift starts at noon but I get in a little early to play with the animals. I love animals. They keep me sane. I smoke a cigarette outside the shop and try to get into work mode. My mood is so-so. I'm not particularly sad or angry today, so that's good.
2:30 p.m. Another cigarette break. I check my Facebook messages. I don't online date but I flirt with a lot of guys on Facebook. I guess you could say I'm a sex addict. That's probably the clinical term but I'm also okay with saying that I just love sex. It's been about ten years of constant sex with inappropriate men. Usually they are much, much older. A few have been married. Today, a guy from the town over is texting about hanging out tonight. We usually get high, fuck, and then I go home. It's both a completely empty and completely intoxicating experience. I tell him I'll go home, shower, and be there by 8 p.m.
6:00 p.m. Dinner with my parents is always nice. They're super supportive. My aunts and uncles say they're enablers, but I think they're just loving. I haven't had an easy life. I've always been overweight and was never popular. We're very open. They know about my active sex life and they let me talk about things. All they care about is that it's consensual and that I use protection.
9:00 p.m. I'm fucking this old guy at his house. By old, I mean maybe 50. I'm 30. He actually has a nice, big, fat cock. I make him eat me out until I come. I never have sex without coming. Then we smoke a bowl. I wait till I'm sober enough to drive home.
11:00 p.m. In bed. What people don't understand is that a night like this is enough for me. Sometimes I get really lonely, but sometimes a day of work, family time, and sex is all I need. Honestly, I don't know if I'm extra simple or extra complicated.
DAY TWO
8:00 a.m. Two days a week I volunteer at a local nursing home. I love old people. They're so warm and funny.
11:30 a.m. I head to work. My boss is a real dick and he's been out on vacation, but he's back today. Great.  He looks down on me because I'm fat. Whatever. He's meaningless to me. I love the animals and I like the work, so I focus on that.
3:30 p.m. I run to CVS to fill some prescriptions. I had back surgery last year, and I've always lived with chronic pain. No one understands what that's like unless you've been there.
6:30 p.m. I'm meeting a friend for dinner at the mall. I've never had a lot of friends, but I'm extremely loyal to the friends I do have. This friend, Sarah, is a little hard to hang out with because her life is perfect compared to mine. Tonight I feel like she's sort of rubbing it in. She's engaged and they're buying a house; I'm single and live with my parents. Sarah's a good person and I think she tries to be encouraging, but it just makes me feel like a loser. I don't tell her this.
8:30 p.m. On the way home, I text Ryan to see if he's around. He's a recovering alcoholic I met through the nursing home (his grandma is there). He's sober now but still having a hard time. He doesn't have much money, and his house is filthy. But I like his company. He lets me be me. The sex is not good with Ryan, but I like trying, and I like being in his arms. He texts back that he's going to sleep early tonight. Oh, well.
DAY THREE
11:30 a.m. Pre-work cigarette. I'm starting a diet today. No carbs. It worked for me before: I once lost 60 pounds in four months. I felt great. But I fell off track and the weight came back fast. It's so hard to be on a diet … it's like, impossible for me. I have cousins who try to motivate me, and say they'll train me, or stay on me, or whatever it takes. But something is holding me back. I don't really know what it is. Maybe I'm lazy. Maybe deep down I like who I am? I haven't been to therapy in a few years but it's probably time to go back.
6:30 p.m. I go home to shower because I'm meeting a guy, Bob, tonight. Bob is an old hippie who came into the pet shop recently. He's a widow, I think. I have a lot of empathy for him and he's kind of sexy in an old-cowboy kind of way.
9:00 p.m. Bob has a really cute house. It's clean, and he made us dinner, which is sweet. He drinks water and I drink wine. He's 30 years sober or something. It's like everyone I meet is either sober or an addict of some sort. After dinner he moves closer to me. It's not as creepy as it sounds. Turns out he doesn't want to fuck; he just wants to get me off. I'm sure that has something to do with his age. I let him finger me on the couch and then he goes down on me until I come. It's all sort of sweet and embarrassing for both of us.
10:30 p.m. I'm home and telling my mom about Bob. She says it sounds horrible, but she also doesn't judge. I love my mom.
DAY FOUR
1:30 p.m. My boss at work — the dickhead — actually tells me I'm getting a little raise! It's about time. I  have to say, I'm really good at what I do. The customers love me and the animals respond beautifully. I'm feeling good about myself at the moment!
4:30 p.m. One of my cousins swings by the pet shop to convince me to take a little run with her after work. It is a beautiful night. I tell her to pick me up around 7 p.m.
7:00 p.m. Okay, I hate running. It's pretty much impossible with my back and my weight, so we do a power walk. I love my cousin. She's married and has her life together, but she also lets me tell her all my crazy sex stories. She doesn't seem to think my life is disgusting or embarrassing, like some of my other cousins do.
9:00 p.m. I'm watching Real Housewives of Orange County with my mom and dad. It's the best.
DAY FIVE
9:30 a.m. I masturbate in the shower with the shower head. I do this every morning. It's my favorite way to come!  TGIF!!!
2:30 p.m. Smoke break. I text Randy. Randy lives near my parents' house. He's harmless but has a lot of dirtbag friends and they're having a big party tonight. That means I'm getting fucked up — and fucked. I convince my friend Cammie to come, too. I've known Cammie since high school. She's a really nice girl from a nice family — my parents love her. She loves sex too, by the way.
9:00 p.m. Cammie picks me up and we head to Randy's. So far, just a few guys are there. They're drinking beer and watching a comedy show. Everyone is nice. I look around and try to figure out who I'm attracted to. There is one guy, Tyrell, who's really big but has a really nice face. No wedding ring, either. He's kind of quiet. He says he works for a football team but that's all he'll tell me. I don't know if it's professional or high school or what. We start drinking together, taking shots, smoking cigarettes, and I know what's next …
10:00 p.m. Tyrell and I are fucking in Randy's bedroom. It's really good. I'm on top of the world (and on top of Tyrell). We leave the bedroom and I see that Cammie is making out with the cutest guy in the room, of course. The party is getting lit but I had my sex and kind of want to go home. I tell Tyrell I'm tired and he offers to drive me home, which I think is sweet.
10:45 p.m. Tyrell drops me off and asks for my number. I wonder if he'll actually call me. I think he's great. I go inside and tell my mom and dad about him and they say he sounds like someone I could actually date. Mind you, I haven't had a real boyfriend in maybe seven years. My last boyfriend was in college and he ended up being a total dirtbag who I think is in jail now.
DAY SIX
7:00 a.m. I hate that even when I'm hungover and even when I don't have to work, I wake up this early. I go to the couch and turn on the TV. My parents went camping for the weekend so I'm home alone. I don't really like to be alone.
12:30 p.m. I've convinced one of my cousins to come by. I tell him about all my hookups for the week and he says I just like the attention. Maybe he's right. Who doesn't like attention though? Does that make me fucked up? I don't think so!
9:30 p.m. I swear I've watched every single movie on Netflix today and none of them were great. Going to call it a night. But first, I masturbate super loudly because I'm home alone and why not.
DAY SEVEN
7:00 a.m. Today is going to be a repeat of yesterday, I think. Weekends are a little hard for me because I don't have anywhere to be and it feels like my life is purposeless and meaningless.  I miss my parents and I miss the animals from work.
12:30 p.m. I get a text from Tyrell. He wants to know what I'm up to. I tell him I'm cleaning the house (kind of true) and relaxing. He asks if I want to grab a slice of pizza later and hang out. Of course I do! I make myself wait ten full minutes before writing back.
5:30 p.m. We meet at a local pizza place. He looks really handsome. We get food and beer and start talking. It's nice to learn about him. Our lives have had some similar obstacles: weight, depression, chronic pain … I think he's a nice guy. That's a rare find!
7:00 p.m. I invite him back to my place since I know my parents are gone until tomorrow. And I did clean it up, after all. He comes in and very quickly we start having sex on the couch. The sex is faster than I would have liked, but like I said, he has a great dick so I come when he comes. Pizza plus sex — that's what I'd call a great Sunday afternoon.
8:00 p.m. Tyrell says he has to head home so we don't cuddle much. Maybe next time. He says he'd love to hang out again soon. Fingers crossed!
Want to submit a sex diary? Email sexdiaries@nymag.com and tell us a little about yourself.