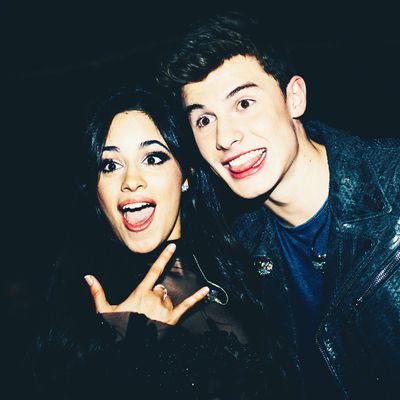 Camila Cabello and Shawn Mendes.
Photo: Mike Windle/Getty Images
Let us quickly state the obvious: at the very least, singers Camila Cabello, 22, and Shawn Mendes, 21, are both vocally happy the other exists. In the four years since meeting in the summer of 2014, they've photobombed each other on the red carpet, recorded a platinum collab, and repeatedly asserted how "proud" they are of one another. That period of their relationship, though, is not currently of interest.
Instead, let us take a closer look at the past few months of Cabello and Mendes's relationship, during which it — or at least the narrative around it — has evolved. Since the end of June, when the pair released an incredibly sexy song and accompanying music video, we've seen an astronomical spike in speculation that the pair is more than just friends, which they've fueled by making out and holding hands all over the place. But is it actually legitimate?
Let us inspect a timeline of their now-incessant PDA.
June 21: Cabello and Mendes drop "Senorita"
Here's where it all starts. On June 21, Cabello and Mendes basically spark their own dating rumors when they release "Senorita," a song featuring pretty suggestive lines, i,e.: "You say we're just friends/But friends don't know the way you taste/'Cause you know it's been a long time coming/Don't you let me fall." Alongside the sexy song, they also release its accompanying music video, which people in office jobs may not want to watch at work.
Four days later, Cabello reportedly broke up with her dating-coach boyfriend. Interesting timing!
July 6: They're spotted holding hands
Just two weeks after dropping their horny song, Cabello and Mendes are spotted with their fingers intertwined after a night "out on the town," ET! Canada reports. The night apparently ends at Cabello's place in West Hollywood.
July 12: Then they're spotted kissing
At last, the pair arrives at first base in San Francisco, which is captured by Pop Crave. Big day!
July 29: They enjoy a very open-mouthed pool kiss
Between their first (photographed) kiss in mid-July and the end of the month, the couple simply cannot stop holding hands and smashing their faces into each other. This notably horny period culminates in their kiss seen round the world: when they aggressively make out (and swallow chlorinated water) in a pool in Miami.
August 9: Cabello says she "loves" Mendes
In an Instagram post dedicated to the big birthday boy, Cabello writes, "Happy birthday to this magic human, I love you!!!!" Read that as you please.
August 26: The sensual VMAs performance
Mendes and Cabello don't make out during their VMAs performance of "Senorita," but they do literally sing the song into each other's mouths. Outlets describe this as "sizzling" and "romantic."
Early September: Mendes and Cabello talk about being in love (but don't mention each other)
While Cabello doesn't explicitly say Mendes's name when on the topic of love in her Elle cover story, she appears to be talking about him when she says, "Falling in love is like an infinite amount of levels and layers and angles," and "I fell in love and just opened up." (She must be mimicking Mendes, who just days earlier says in an interview that he's in a relationship but can't divulge with whom.)
September 9: And then, the real sexy "Senorita" performance
During Mendes and Cabello's performance of the song on the Toronto stop of Mendes's tour, the duo kisses on stage. In response, the Canadian television show etalk demands "a fire extinguisher ASAP" in its Instagram video of the PDA.
September 12: The cursed make-out video
Not even a week after Timothee Chalamet and Lily Rose-Depp plunged their tongues into each other's mouths on a yacht in Italy, Mendes posts an Instagram video of himself and Cabello kissing with unnerving gusto. To Mendes and Cabello's credit, they're trying to kiss in the most disgusting way possible, in response to trolls who have accused them of "[kissing] like fish." But still … this is deeply disturbing.
While we previously described the "Senorita" video as potentially NSFW, let us walk back on that a bit: This is the video that you won't want to watch around your colleagues (or really anyone, for that matter).