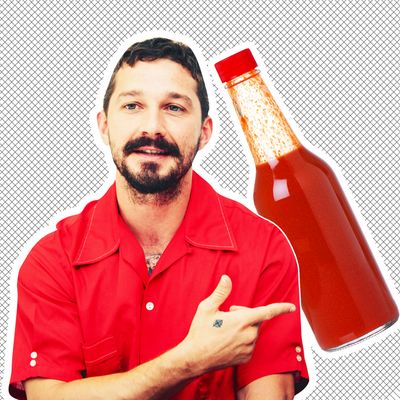 Shia LaBeouf, left, and hot sauce.
Photo: Getty Images
What is passion if not the precariously thin line between adoration and agony? A fixation so consuming that it frees and traps you at the same time. A hot sauce that burns your tongue, but also loosens it, so that you, Shia LaBeouf, can inform all of your fellow diners how good it is.
Yes, according to "Page Six," the actor, performance artist, and dirtbag street-style icon has a new passion, and it is the house-made "lacto-fermented" hot sauce at Honey Hi on Sunset Boulevard. Per "Page Six":
As the "Transformers" star bussed his own plates after enjoying his meal outdoors, he kept repeating his love for their hot sauce saying, "Wow! This hot sauce is amazing! Has everyone tried it?" loudly enough for the entire restaurant to hear.
The source added, "It was absolutely a bit manic, but it was also very sweet." They did not say whether they had tried the hot sauce, and whether it was indeed worthy of LaBeouf's hype.
Perhaps the lacto-fermented hot sauce will take over the emotional real estate once occupied by LaBoeuf's previous passions, like his anti-Trump livestream–slash–performance art piece called HE WILL NOT DIVIDE US that he installed at the Museum of the Moving Image on the day of Trump's inauguration, which was shut down a month later after it attracted neo-Nazi trolls, and LaBoeuf was arrested for getting into an altercation with one of them. So far, no sauce-related altercations have been reported.
Only time will tell if Kanye West will take this hot sauce from LaBeouf as well as his clothes.