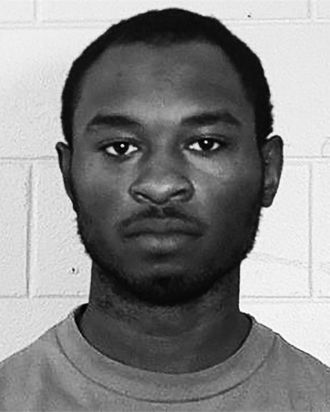 Tevin Biles-Thomas.
Photo: Liberty County Sheriff's Office
Last week, the brother of Olympic-champion gymnast Simone Biles was arrested on charges related to a triple homicide in Cleveland. Tevin Biles-Thomas, 24, is the only suspect in a shooting on New Year's Eve that left three dead.
Cleveland police say Biles-Thomas was present at a New Year's Eve party at an Airbnb above a pizzeria where a fight broke out after a group of men showed up uninvited and were asked to leave. Gunfire ensued, and Devaughn Gibson, 23, DelVaunte Johnson, 19, and Toshon Banks, 21, died after they were each shot multiple times. Two others were wounded but survived.
Biles-Thomas has been charged with murder, voluntary manslaughter, felonious assault, and perjury. According to Cleveland.com, he is in the U.S. Army. Biles-Thomas is one of Simone Biles's four siblings; their mother, Shanon, was addicted to drugs and alcohol when they were children, and they were in foster care before being taken in by Shanon's father, Ronald. Ronald Biles officially adopted Simone and her sister Adria, the two youngest children, and Ronald's sister Harriet adopted Tevin and the eldest sister, Ashley.
Simone Biles, 22, commented for the first time on her brother's arrest over social media on Sunday, writing that her "heart aches" for all involved and that she's having "a hard time processing" the news.
Last month, Biles clinched a record-tying sixth title at the U.S. Gymnastics Championships, where she landed two history-making flips. Tevin Biles-Thomas is set to be arraigned on September 13.